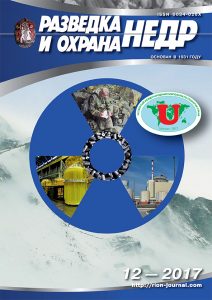 CONTENTS № 12/2017
GEOLOGY & METHODICS OF PROSPECT & EXPLORATION OF DEPOSITS
УДК 553.04+553.061+553.495:553.98
Pechenkin I.G. (VIMS) // pechenkin@vims-geo.ru
FEATURE OF FORECASTING SANDSTONE URANIUM DEPOSITS IN OIL-AND-GAS BEARING BASIN
Bituminization of permeable strata it creates favourable geochemical conditions of a reducing character for a subsequent concentration of ore. On the other hand, intrusion of bitumen and its dissolution in the aeration zone leads to the burial of the mineralization which formed earlier and disappearance of all traces of its formation (epigenetic oxidation zoning). The established sequence of epigenetic alterations allows us to carry out specialized mapping in productive regions, uncovering hidden parts of epigenetic oxidation zoning and "buried" mineralization. Their detection by means of mapping creates the necessary conditions for determining the prospects for both local regions of subsoil assets and large geological structures.
Keywords: oil-and-gas bearing basin, uranium deposit, epigenesis, Ordos, Central Kyzyl-Kum.
Р. 3-11
УДК 553.496.411.078 (480+470.22)
Afanaseva E.N. (VSEGEI) // Elena_Afanasieva@vsegei.ru
Mironov Yu.B. (VSEGEI) // Yuri_Mironov@vsegei.ru
URANIUM AND GOLD MINERALIZATION IN THE CENTRAL PART OF THE LAPLAND BELT (THE BALTIC SHIELD)
Structural and compositional features of the gold-uranium mineralization in the Central part of the Lapland Belt are considered. The Kuusamo-Pana-Kuolayarvi gold-uranium ore district (Russia, Finland), Kemi-Tornio gold-uranium (Finland) and Kittilla-Sirkku gold ore district (Finland) were allocated. Comparative analysis of the structural and compositional features, spatial and temporal patterns of gold and uranium ore objects distribution of the Russian and foreign parts of the Baltic Shield was made. This concerns the ore-bearing rocks features, ore-controlling structures, the types of bearing-ore metasomatic rocks, the composition of the ore mineralization, etc. The conclusion about the prospects of detection within the Pana–Kuolayarvi Trough of gold ore objects of different ore formations, and recommendations for further work are given.
Keywords: Baltic Shield, Yuomasuo, Pakhtavaara, Rompas deposits, gold, Ozernoye mineral occurrences, metasomatites, uranium.
Р. 11-17
УДК 550.83.04:550.812:553.078
Petrov V.A. (IGEM RAS) // vlad243@igem.ru
Minaev V.A. (IGEM RAS) // minaev2403@mail.ru
Ustinov S.A. (IGEM RAS) // stevesa@mail.ru
Poluektov V.V. (IGEM RAS) // vapol@igem.ru
Andreeva O.V. (IGEM RAS) // akimolan@igem.ru
EVALUATION OF WAYS AND FLUIDODYNAMIC CONDITIONS OF MIGRATION OF ORE-SOLUBLE SOLUTIONS BY STRUCTURAL PETROPHYSICS AND MICROSTRUCTURE ANALYSIS
From the position of fundamental and applied aspects of geological science and practice, one of the most important task is the reconstruction of the space-time relationship between deformations of rock massifs, their fluid permeability and mineral formation in the fractured-pore volume of the ore deposition zone. In this regard, there is a need to develop new approaches for establishing of a number of parameters that determine the dynamics of the processes of mobilization, transport, deposition and redeposition of ore matter.
Keywords: granitoids, uranium deposit, fluid flows, hydrothermal solutions, petrophysical analysis, microstructural analysis.
Р. 17-23
HYDROGEOLOGY & GEOLOGICAL ENGINEERING
УДК 551.34:556.3
Ershov V.V. (Gidrospetsgeologiya) // ilfsm@mail.ru
THE PERMAFROST ZONING OF THE HYDROGEOLOGICAL STRUCTURES OF THE PECHORA ARTESIAN BASIN
Areas of distribution of permafrost in the territory of the Pechora artesian basin are considered. The regularities of the distribution of permafrost in these zones are revealed. The zones of permafrost are considered separately for third-order basins. The capacities of permafrost rocks are shown, the conditions for their occurrence and confinement. For each zone, the characteristic temperatures of permafrost are given. Conditions and reasons for the spread of various geocryological processes are given.
Keywords: artesian basin, permafrost, talik, cryolithozone, cryogenic processes.
Р. 23-27
TECHNIQUES & TECHNOLOGY
УДК: 553.04 (678)
Yastrebkov A.Yu. (Uranium One Group) // yastrpost@mail.ru
Zharnikov A.N. (MC Polyus LLC) // alexeyz_73@mail.ru
Kutueva O.V. (VIMS) // ovkutueva@yandex.ru
Markevich K.V. (RMG Gold LTD) // kv-markevich@yandex.ru
Ivlev I.A. (Uranium One Group) // Ivlevia@u1g.ru
Melnikov A.V. (Uranium One Group) // amelnikov73@gmail.com
Konstantinov V.L. (Uranium One Group) // konstantinov@u1g.ru
EVALUATION OF URANIUM DEPOSIT NYOTA IN TERMS OF IN-SITU LEACHING BASED ON THE RESULTS OF GEOLOGICAL, HYDROGEOLOGICAL STUDIES AND LABORATORY LEACHING TESTS
The paper presents the results of assessment of uranium deposit Nyota (United Republic of Tanzania) in terms of in-situ leaching, due to the fact that a part of the deposit's resources is potentially attractive for in-situ recovery. The estimation is based on the results of geological, hydrogeological studies and laboratory leaching tests conducted in 2015. The results of the studies confirm that both host rocks and ore are permeable and uranium can be leached from core samples using sulphuric acid solutions. The data collected does allow to proceed with in-situ leaching tests.
Keywords: in-situ leaching of uranium, uranium mineralisation, Tanzania, laboratory leaching tests, hydrogeological studies.
Р. 27-34
УДК 669.822:553.495
Saltykov A.S. (VIMS) // asalt52@mail.ru
Avdonin G.I. (VIMS) // gosha1956@mail.ru
THE APPLICATION OF FIELD GEOTECHNOLOGY STUDIES FOR URANIUM DEPOSITS OF VARIOUS GEOLOGY-INDUSTRIAL TYPES
The obtainment of some technology parameter values needed to develop prospective uranium deposits necessitates preliminary field tests on model objects which are essentially scaled-down models of actual deposits to be developed. The scope and the flow chart of the field studies are to correspond with the actual stages of the geology prospecting and development of the actual deposit. During the pre-feasibility studies single-well field tests are to be conducted while advanced feasibility studies require multiple-well field tests which in turn comprise pilot plants for the treatment of the solutions produced during the said tests. In Russia, uranium leaching field tests have been made so far on the following uranium deposit types: endogenous deposits in volcanic-tectonical orogeny areas; sedimentary cover sea clay-hosted exogenous deposits; exogenous deposits hosted in water-permeable platform cover formations. The field tests held at the said deposits brought about a significant increase of Russia's uranium resource base.
Keywords: uranium deposit, in-situ leaching, heap leaching, pregnant solution, field tests.
Р. 34-42
MANAGEMENT & ECONOMICS
УДК 502.34:351.853 502.36:550.8
Bakhur A.E. (VIMS) // bae@u238.ru
Gulynin A.V. (VIMS) // lab@u238.ru
Nozik M.L. (Safety) // milen2@mail.ru
FEDERAL AGENCY ROSNEDRA AS AN EXECUTIVE AUTHORITY REGULATING NUCLEAR POWER IN THE SPHERE OF SUBSOIL USE
The article provides an analysis of legislative and regulatory documents allowing enterprises subordinate to the Federal Agency for Subsoil Use (Rosnedra) to use radiation equipment and sources as well as storages for radioactive materials and waste disposal. The authors have compiled the list of key national regulations in nuclear power industry mandatory for all the enterprises and argue that a new departmental information analysis center, if created within Rosnedra, will ensure their full compliance with the Russian Federation government laws.
Keywords: radioactivity, radiation safety, monitoring, subsoil.
Р. 43-48
УДК. 553.495+622.349.5:553.64(470.47)
Avdonin G.I. (VIMS) // gosha1956@mail.ru
Gurov V.A. (VIMS) // guvalex@bk.ru
Mamoshin M.Yu. (VIMS) // luiso_lucciccio@mail.ru
Pikalova V.S. (VIMS) pikalova@vims-geo.ru
AN ESTIMATE OF URANIUM RECOVERY FROM PHOSPHORITE ORES
The bulk of the unconventional uranium resources worldwide is associated with phosphorite ores. Despite the ongoing depression in the world uranium markets, extensive research is underway in various countries with an objective of developing cost-effective ways of uranium recovery from non-conventional resources. Until recently, solvent extraction (SX)-based flowsheets dominated the phosphate resources development field when it came to the uranium recovery. The article features a novel, cost-effective method of ion exchange (IX)-based processing of complex low-grade phosphorite ores yielding high recovery rates of phosphorus, uranium, nickel, cobalt and rare-earth elements. Based on the results of the pilot plant operation conducted at Shargadyk low-grade complex phosphorite ore deposit (Russian Federation, the Republic of Kalmykia), the new heap leach – ion exchange (HL-IX)-based method is free of the faults and shortcomings characteristical of  the conventional SX technologies of uranium recovery from the phosphate resources. The proposed HL-IX technology offers high integral level of commercial efficiency.
Keywords: uranium, rare earth element, scandium, phosphates, phosphorites.
Р. 48-55
BOWELS PROTECTION & ECOLOGY
УДК 550.42; 546.72: 504.05/63
Rikhvanov L.P. (National research Tomsk Polytechnic University) // rikhvanov@tpu.ru
RADIOACTIVITY AND RADIOACTIVE ELEMENTS AS THE FACTOR OF THE GEOLOGICAL ENVIRONMENT AND HIS USE IN SCIENCES ABOUT THE EARTH
The article discusses the universal abundance of natural radionuclides. We have shown the indicative properties of natural radioactive elements for the solution of the problems devoted to genesis of magmatic and metasomatic rocks, fluid-based ore formation processes and their use for the purposes of forecasting of various mineral deposits (uranium, rare metals, gold, oil and gas, etc.).
Keywords: uranium, thorium, radioactivity, global abundance, indicative role, magmatism, metasomatism, ore formation, radiogeochemical features.
Р. 55-61