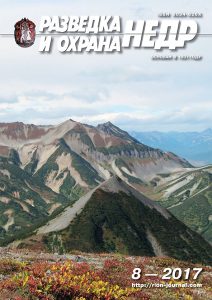 CONTENTS № 8/2017
GEOLOGY & METHODICS OF PROSPECT & EXPLORATION OF DEPOSITS
УДК 553.41(571.55)
Redin Yu.O. (Sobolev Institute of Geology and Mineralogy Siberian Branch Russian Academy of Sciences) // redin@igm.nsc.ru
Redina A.A. (Sobolev Institute of Geology and Mineralogy Siberian Branch Russian Academy of Sciences) // redina@igm.nsc.ru
Kolpakov V.V. (Sobolev Institute of Geology and Mineralogy Siberian Branch Russian Academy of Sciences) // vladk@igm.nsc.ru
MINERAL COMPOSITION AND ORE-FORMING CONDITIONS OF THE GOLD-POLYMETALLIC LUGIINSK DEPOSIT (EASTERN TRANSBAIKALIA)
The Lugiinsk gold-bearing deposit is regarded as volcanic polymetallic formation deposit, for which the hydrothermal-metasomatic type of ore is specific. Two stages of ore formation were deduced: gold-pyrite (early stage) and gold-polymetallic (late stage). Isotopic data and fluid inclusion study pointed out to low and medium temperatures for ore deposition.
Keywords: mineral composition, native gold, isotopic studies, ore-forming conditions, Eastern Transbaikalia.
Р. 3-8
УДК 553.068.57
Nikiforov Yu.А. (SKF TFGI YFO)
INDICATION OF CONCEALED METAL-RICH PLACER DEPOSITS IN TERTIARY DEPOSITS OF EASTERN STAVROPOL REGION
The article characterizes the status of industrial exploration of current wolfram deposits in the North Caucasus. The author sets forward a new way for indication of concealed metal-rich placer deposits with the perspective of their hydraulic borehole mining exploration. Based on analysis and processing of factual archive records of boreholes in the Eastern Stavropol region, the indications of extensive (more than 100 km) concealed (300-550 m) wolfram placers in paleochannel Tertiary deposits are stated. The characteristics of their stereoscopic parameters and wolfram content (0.05-1 %) are given. Preliminary estimate of prognostic resource by category Р2 – 570-630 thousand ton of WO3 is given. It is recommended to conduct prospect evaluation survey through drilling with further resource assessment of category Р1 and deposits of category С2 (2-3 locations) for their approbation in States Reserves Commission to prepare for investment exploratory drillings.
Keywords: Eastern Stavropol region, concealed paleochannel deposits, wolfram, copper, cobalt, zinc, titanium, gold, prognostic resources, hydraulic borehole mining.
Р. 8-13
УДК 550.84
Ovsyannikova T.М. (VIMS) // lab@u238.ru
GEOCHEMICAL TECHNIQUES OF FINDING BLIND DEPOSITS
The article provides an overview of geochemical methods aimed at detecting concealed and deeply buried mineral deposits in various landscape and climatic conditions (selective and sequential partial extraction, geoelectrochemical, bio-leaching, soil gas hydrocarbon and metal nanoparticles methods, isotopic and other advanced technologies).
Keywords: exploration geochemistry, partial extraction techniques, soil gas hydrocarbon, metal nanofractions, isotopic ratios, blind mineral deposits.
Р. 13-19
УДК 553.493.58: 553.495
Karas S.A. (IMGRE) // serge-karas@yandex.ru
Kremenetskiy A.A. (IMGRE) // nauka@imgre.ru
Orlov S.Yu. (IMGRE) // nogik@mail.ru
Kultin Yu.V. (IMGRE) // ykultin@yandex.ru
Shlychkova T.B. (IMGRE) // shlychkova.tanya@yandex.ru
NEW ECONOMIC TYPE OF HYDROGENICAL RHENIUM MINERAL DEPOSITS
Because of the appraisal work at the Briketno-Zheltukhinskoe deposit (Ryazan region), the authors refined existing ideas of the deposit's geology. Geochemical zoning pattern of bed oxidation zone is detected. The genetic model of the formation of economic rhenium ores presented there. There are described features of useable in situ leaching (ISL) technique. Commercial product of ISL is ammonium perrhenate. Because of the above and deposit development conditions, the deposit's mineral reserves were officially registered by the State Commission on Mineral Reserves (GKZ).
Keywords: rhenium, uranium, molybdenum, geochemical zoning, bed oxidation zone, in situ leaching technique, sorption, Briketno-Zheltukhinskoe mineral deposit, Moscow lignite basin.
Р. 20-27
УДК 553.3/.6.078(470.64)
Belyaev E.V. (TSNIIgeolnerud) // bel@geolnerud.net
Markin M.Yu. (Institute of arid zones SSC RAS) // markin_maxim@inbox.ru
POLYMINERAL ORES OF THE MALKINSKIY BASITE-ULTRABASITE MASSIF (NORTH CAUCASUS)
Contains information on the geological and mineragenic characteristics of the Malkinskiy basite-ultrabasite massif with which associated prospective objects of ore (iron, nickel-cobalt, copper, lead-zinc and chromite ores) and non-metallic (mineral pigments, hydromagnesite, colored and facing stones, asbestos) minerals.
Keywords: ore-bearingmineral resource, basite-ultrabasite, Malkinskiy, North Caucasus.
Р. 27-32
GEOPHYSICS
УДК 528.8:550.8
Parshin A.V. (SibGIS LLC, Institute of Geochemistry SB RAS, Irkutsk National Research Technical University) // sarhin@geo.istu.edu
Tsirel V.S. (Geologorazvedka) // info@geolraz.com
Antsev V.G. (JSC «Radar mms») // ancev_vg@radar-mms.com
PRESENT AND FUTURE OF UNMANNED AEROGEOPHYSICS IN RUSSIA
The current state of the market of unmanned geological systems is analyzed. The main variants of unmanned geophysical technologies and their applicability in solving urgent problems at the present stage of geological activity in Russia are considered. The results obtained by the UAS complexes of multi-rotor and helicopter types developed by the authors are presented, in conjunction with the data of traditional surveys. The possibility of replacing a large proportion of traditional large-scale pedestrian work with a multi-rotor technology, and helicopter ones, both pedestrian and various aerogeophysical surveys, is substantiated.
Keywords: unmanned aerial vehicles (UAV), remote sensing, aerogeophysics, geological prospecting, unmanned technologies, magnetic prospecting.
Р. 33-39
УДК 550.837
Davydov V.A. (Senior researcher of the Geophysics Institute of the Ural Branch of the Russian Academy of Sciences) // davyde@yandex.ru
Baydikov S.V. (Senior researcher of the Geophysics Institute of the Ural Branch of the Russian Academy of Sciences) // badikek@mail.ru
Astafev P.F. (Senior researcher of the Geophysics Institute of the Ural Branch of the Russian Academy of Sciences) // pashaek@mail.ru
STUDY POLARIZATION EFFECTS THROUGH INDUCTION METHODS OF ELECTRICAL PROSPECTING ON THE EXAMPLE CHUSOVSKOY DEPOSIT
The paper studied the electromagnetic parameters of the upper section of the ore body Chusovskoy massive sulphide deposit using electrical induction. Various methods are made profiled and area studies of electrical conductivity and the frequency dispersion of the ore deposit area. Past work has shown the fundamental possibility of detection is not coming to the surface of the «blind» massive sulphide ores using shallow induction methods.
Keywords: induced polarization, multifrequency induction profiling, frequency dispersion, apparent resistivity, sulphide deposit.
Р. 39-45
TECHNIQUES & TECHNOLOGY
УДК 622.7
Ivanova M.V. (VIMS) // margo_898989@mail.ru
Bronitskaya E.S. (VIMS) // vims@df.ru
Sokolov S.V. (VIMS) // vims-sokol@mail.ru
Gazaleeva G.I. (Uralmehanobr) // gazaleeva_gi@umbr.ru
OPTIMIZATION OF TECHNOLOGY OF ENRICHMENT OF RARE-METAL ORES WITH THE APPLICATION OF MODERN EQUIPMENT OF VARIOUS PRINCIPLE OF ACTION
The efficiency of using a complex of modern equipment in the process of ore preparation and in the gravitational-magnetic enrichment of finely-grained rare-metal ores has been shown. The influence of the content of fine-grained fractions on the possibility of obtaining tantalum concentrate has been established.
Keywords: rare metal ores, selective ore preparation, gravitational-magnetic enrichment, modern equipment, tantalum concentrate.
Р. 45-49
BOWELS PROTECTION & ECOLOGY
УДК 550.46
Domarenko V.A. (National research Tomsk Polytechnic University) // viktor_domarenko@mail.ru
Savichev O.G. (National research Tomsk Polytechnic University) // OSavichev@mail.ru
Peregudinа E.V. (National research Tomsk Polytechnic University) // pere-elena@mail.ru
DISTRIBUTION FEATURES OF CHEMICAL ELEMENTS IN BOGS OF EAST VASYUGAN MIRE COMPLEX
The research of chemical elements and compounds distribution in wetland waters and water extracts from peats of north-eastern part of Vasyugan mire in of Bakchar ore cluster is completed. The background information is obtained in the period of winter runoff low in 2015 by seasonal snow cover. The data for the change of chemical composition of bog waters and peats according the depth of peat deposit and in active layer are obtained. It is established that the decrease of some rare elements concentrations in bog waters according to depth takes place simultaneously to their increase in a mineral phase.
Keywords: Vasyugan mire, Western Siberia, chemical composition, wetland waters, peat.
Р. 50-55
УДК 331.46+331.47
Alekseev V.M. (ROSGEO) // rosgeo@yandex.ru
Farrakhov E.G. (ROSGEO) // rosgeo@yandex.ru
Volfson I.F. (ROSGEO) // rosgeo@yandex.ru
ON THE ISSUE OF OCCUPATIONAL INJURIES AND OCCUPATIONAL DISEASES DURING GEOLOGICAL EXPLORATION
Some aspects of occupational injuries and occupational diseases in geological exploration are considered. Based on the information from geological enterprises, the analysis of the condition and causes of injuries, as well as production factors leading to occupational diseases, has been carried out. Key words: geological exploration, geologists, labor protection, traumatism, occupational diseases, hazardous and harmful production factors, trace elements, shift work, acclimatization.
Keywords: geological exploration, geologists, labor protection, traumatism, occupational diseases, hazardous and harmful production factors, trace elements, shift work, acclimatization.
Р. 55-62