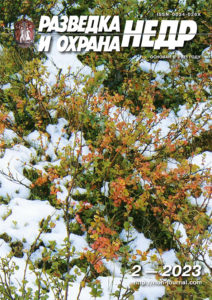 CONTENTS № 02/2023
DOI: 10.53085/0034-026X_2023_02_03
УДК 551.2 (571.1/.5)
Migurskiy F.A. (VNIGNI) // fam@vnigni.ru
GEODYNAMIC MODEL OF THE WESTERN PERIPHERY OF THE SIBERIAN PLATFORM 
The data of profile seismic observations of the SMT in the zone of articulation of the sedimentary cover of the Siberian platform with the crystalline strata of its framing indicate the beginning of the formation of folded and disjunctive dislocations not earlier than the Late Paleozoic as a result of regional shear compression processes. This fact is confirmed by the results of our own and published field observations, including analyses of the absolute age of blastomylonite formations. The recognition of the presence in the geodynamic history of the western periphery of the Siberian platform of a global event of Permo-Triassic shear compression, possibly with a significant right-hand shift, allows us to get answers to many unsolved sedimentological, tectonic, oil and gas and other geological questions.
Keywords: Altai-Sayan folded region, geodynamic model, Yenisei ridge, prospects of oil andgas potential, Yenisei fault zone, Siberian platform.
Р.3-12
DOI: 10.53085/0034-026X_2023_02_12
УДК: 553.3.072(571.53/.55)
Gongalskiy B.I. (IGEM RAN) // brgon@mail.ru
 COPPER AND URANIUM DEPOSITS OF THE KODARO-UDOKAN DISTRICT
Copper-bearing chalcosite-bornite and essentially chalcopyrite ores of deposits of the Kodaro-Udokan ore region occur at different stratigraphic levels in sedimentary rocks (with a vertical range of about 3–3.5 km) and in different zones of intrusive complexes. Along with world-class deposits: Udokan (Cu), Chiney (Cu, V), Katugin (Ta, Nb, Zr), there are numerousore occurrences with less resources. A close genetic relationship has been established between deposits in sedimentary and igneous rocks. They have industrial concentrations of U and REE.
Keywords: Udokan deposit, Chiney massif, copper, Northern Transbaikalia.
Р.12-21
DOI: 10.53085/0034-026X_2023_02_21
УДК 553.495:547.912 (571.54)
Solodov I.N. (Atomredmetzoloto) // INSolodov@armz.ru
Karamushka V.P. (Atomredmetzoloto, VNIPIpromtekhnologii) // Karamushka.V.P@vnipipt.ru
ABOUT EPIGENETIC URANIUM REDUCERS ON DEPOSITS OF THE KHIAGDINSKY ORE FIELD (REPUBLIC OF BURYATIA)
The assessment of Eh-forming groundwater systems on uranium deposits of the Khiagda ore field was carried out. They are capable of creating strong reducing conditions —Eh –420 … –300 mV, which are not found in the hydrogenous deposits of Uzbekistan, South Kazakhstan and Zauralsk region of Russia. Such a low values of Eh are most likely due to metabolites of hydrogen bacteria and gaseous and dissolved reducing agents of the petroleum series, entering the ore-bearing horizons in the composition of carbonic groundwater ascending from a granite rocky base along fault zones and increased tectonic fractures.
Keywords: uranium deposit, oxidation potential, Ehforming groundwater systems, natural underground microflora, hydrogen sulfide, atomic hydrogen, petroleum hydrocarbons.
Р.21-29
DOI: 10.53085/0034-026X_2023_02_29
УДК 553.4/.6.075:551.24:552.5(470.62/.67)
Belyaev E.V. (TSNIIgeolnerud, Institute of Geology and Oil and Gas Technologies of Kazan (Volga Region) Federal University) // evbel2018@yandex.ru
MINERAGENY OF NORTH CAUCASUS 
The research observes mineragenic specialisation of tectonic structures and structural-formation complexes of North Caucasus. Basic mineragenic taxones, such as basins, countries, areas, zones, districts, sub-zones with specific composition of non-metallic minerals are distinguished. The prognostic and research criteria for localisation of non-metallic minerals are revealed. Perspective areas are divided in low-supplied, liquid and demanded types of raw mineral.
Keywords: non-metallic, mineral, minerageny, zoning, structural-formation complex, prognostic and research, criteria, North Caucazus, Russian Federation.
Р. 29-39
DOI: 10.53085/0034-026X_2023_02_40
УДК 551.435
Todorova A.Y. (NIU MGSU) // assia.genova@gmail.com
Drakin M.A.(MFTI) // drakin.ma@mipt.ru
Lavrusevich A.A. (NIU MGSU) // LavrusevichAA@mgsu.ru
AUTOMATED DETECTION OF KARST SINKHOLES BASED ON SENTINEL-2 IMAGES
 In this paper, we study the possibility of using publicly available multispectral imaging data from the Sentinel-2 satellite family of the European Space Agency for monitoring karst sinkholes genesis, taking into account the nature of the terrain. An algorithm is also proposed for automated detection of karst sinkholes in the territory of central Russia and its application is illustrated by the example of sinkholes formed in recent years in the Nizhny Novgorod region.
Keywords: karst sinkhole, satellite imagery, Sentinel-2, multispectral imagery, change detection.
Р. 40-46
DOI: 10.53085/0034-026X_2023_02_46
УДК 622.245.42.004.6
Ivanov D.A.(Atomredmetzoloto) // dexhouse@ya.ru
Arsentev Yu.A.(Weatherford Company) // аrsentev1956@yandex.ru
Solovev N.V.  (Weatherford Company) // solovyevnv@mgri.ru
Ivanov A.G.(RGGRU-MGRI) // AlekGeorIvanov@armz.ru
Nazarov A.P. (Weatherford Company) // nazarovap@mgri.ru
EQUIPMENT FOR THE MOUTHS OF TECHNOLOGICAL WELLS FOR BOREHOLE UNDERGROUND URANIUM LEACHING CONSTRUCTED IN THE CRYOLITHOZONE.
The construction and operation of technological wells of uranium SPV in the conditions of MMGP is accompanied by the impact on the production columns of polymer pipes of various loads by nature, leading to the occurrence of irreversible defects that violate the working condition of the columns. In this regard, it becomes necessary to recommend technological techniques for the implementation of wells when designing wells, which minimize the magnitude of these loads, to ensure trouble-free operation of wells during their operation. So, to solve this problem, this article strongly recommends replacing cement mortar with viscoelastic composite material when equipping wellheads, which will create conditions for longterm maintenance of production columns in working condition and increase the efficiency of technological wells.
Keywords: Borehole, borehole underground leaching, polymer production columns, column loads, load classification, wellhead, composite materials.
Р. 46-53
DOI: 10.53085/0034-026X_2023_02_53
УДК: 622.691.24
Maslova L.V. (VIMS) // maslova_lv@list.ru
Danilova O.S. (VIMS) // bos.84@list.ru
CREATION OF UNDERGROUND GAS STORAGE IN MINING AND ITS ECONOMIC EFFECT
 To increase the efficiency of gas transportation through gas pipelines, underground gas storage facilities (UGS) are being built. UGS facilities are needed to regulate uneven consumption and create a gas reserve. This article discusses the prerequisites and possibilities for creating UGS facilities in underground mine workings. The economic efficiency of the operation of underground gas storage facilities in an exhausted mine working is shown on the example of a model object through indicators of budgetary efficiency, characterized by the amount of tax revenues at all levels.
Keywords: construction of an underground gas storage facility in a mine working, economic efficiency, budgetary efficiency, technical and economic indicators, state income, tax revenues to the budget of all levels.
Р. 53-58
DOI: 10.53085/0034-026X_2023_02_59
УДК 553.495:621.039
Vercheba A.A.(MGRI-RGGRU) // verchebaaa@mgri.ru
Alyoshin A.P. (MGRI-RGGRU) // alexei.aleshin@gmail.com
URANIUM GEOLOGY AND THE DEVELOPMENT OF A CARBON-FREE ECONOMY
 The new paradigm of energy development led to the inclusion by the European Commission (EC) of nuclear energy in the program of financing the reduction of gas emissions into the atmosphere. Analysis of the mineral resource base of uranium in the Russian subsoil indicates that the needs of domestic nuclear power are not provided with natural uranium resources. The development of the mineral resource base is objectively related to the personnel potential of the mining and geological industry. A brief analysis of the development directions of the geological industry and the projects being implemented demonstrates the scale of the technological tasks facing the industry. To avoid the dependence of nuclear power development on uranium imports, it is necessary to intensify geological exploration to identify new uranium deposits on the basis of rational geological and geophysical complexes for searching and evaluating hidden uranium deposits in relation to specific geological conditions. To solve this problem, it is necessary to change the educational trajectories of training specialists in the geology of solid minerals and, on the basis of MGRI, organize the training of uranium geologists with the involvement of the basic departments of the industry institutes of VIMS and IMGRE.
Keywords: nuclear energy, uranium mineral resource base, personnel training in uranium geology, MGRI.iodine.
Р. 59-64