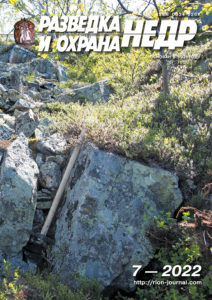 CONTENTS № 7/2022
DOI: 10.53085/0034-026X_2022_07_03
УДК 553.411
Stepanov V.A. (NIGTC FEB RA)//vitstepanov@yandex.ru
MERCURY GOLD DEPOSITS
The geological and structural position, mineralogy and composition of native gold of gold deposits and placers, in which mercury gold predominates, are considered. Native gold in ore deposits and paleoplacers is usually fine and dispersed, while in modern placers it is large to small nuggets. Gold in ore deposits and placers has a high breakdown and mercury admixture from 1-2 to 10-15%. A significant admixture of mercury in native gold indicates the simultaneous participation of both elements in the ore-bearing fluid and raises the question of the role of mercury in the formation of gold deposits.
Keywords: mercury gold, gold deposit, gold-mercury formation, paleoplacer.
Р.3-10
DOI: 10.53085/0034-026X_2022_07_10
УДК 553.462:550.84.09:553.075(571.5)
Suchkov A.V. (VIM)//alexsandir@gmail.com
Trofimov A.P. (VIM)
CHARACTERIZATION AND INTERPRETATION OF SECONDARY AND PRIMARY GEOCHEMICAL HALOS OF MOLYBDENUM ORE OCCURRENCES IN THE SOUTHERN PART OF THE DZHETSKIY MOLYBDENUM ORE CLUSTER (VOSTOCHNY SAYAN)
The article presents the results of the interpretation of anomalous geochemical field of the southern part of the Dzhetskiy ore cluster. Secondary and primary geochemical halos, ore-formation series of objects of different ranks (field, ore occurrence), lateral and vertical series of zoning elements-indicators of molybdenum mineralization are characterized. Practical conclusions on the level of erosion cut-off are made.
Keywords: molybdenum, geochemical prospecting methods, secondary dispersion halos, primary dispersion halos, ore-formation series, Dzhetskiy ore cluster.
Р.10-16
DOI: 10.53085/0034-026X_2022_07_16
УДК 553.495 (571.54/55)
Sashchenko A.V. (VIM)//sashchenko@vims-geo.ru
Tarkhanova G.A. (VIM)//sashchenko@vims-geo.ru
Tyuleneva V.M. (VIM)//verat@inbox.ru
THE ROLE OF HUMIFIED AND CARBONACEOUS PLANT MATTER IN URANIFEROUS SANDY SEDIMENTS OF THE PALEOCHANNEL TYPE URANIUM DEPOSITS
The article presents the role of plant organic matter in the primary uranium accumulation at the deposits of the exogenous-epigenetic (hydrogenic) type, the degree of clay cement participation in the formation and alteration of uranium mineralisation, the process of uranium accumulation evolution from sorption to the mineral forms formation in association with pyrite: the case of Vitimo-Karengsky and Vitim districts.
Keywords: uranium, exogenous-epigenetic deposits, plant detritus, sorption, Vitim uranium ore district.
Р.16-24
DOI: 10.53085/0034-026X_2022_07_25
УДК 556.3
Zhulmina G.A. (Branch «Siberian Regional Center of HMSN», Gidrospetsgeologiya, Toms)// julmina@sfo.geomonitoring.ru
Ruks N.Yu. (Branch «Siberian Regional Center of HMSN», Gidrospetsgeologiya, Toms)// ruks@sfo.geomonitoring.ru
Balobanenko A.A. (Branch «Siberian Regional Center of HMSN», Gidrospetsgeologiya, Toms)//baa@sfo.geomonitoring.ru
HOUSEHOLD AND DRINKING WATER SUPPLY OF THE POPULATION OF THE TERRITORY OF THE SIBERIAN FEDERAL DISTRICT: STATE OF THE ISSUE, PROBLEMS, WAYS TO SOLVE THEM
The paper gives a characteristic of household and drinking water supply to the population of the Siberian Federal District, gives a characteristic of natural substandard and technogenic pollution of groundwater, water supply problems and ways to solve them.
Keywords: Deposits of underground waters, water intakes, underground waters, natural substandard, pollution.
Р. 25-31
DOI: 10.53085/0034-026X_2022_07_31
УДК 622.771
Grigorieva A.N. (GC «Elma-Asterion», St. Petersburg)//an@td-elma.ru
Abiev R.Sh. (St. Petersburg State Technological Institute (Technical University)//rufat.abiev@gmail.com
OVERVIEW OF AGITATORS USED TO SUSPEND SOLIDS IN THE URANIUM PRODUCTION PROCESS
The article provides an overview of various types of agitators used to suspend solids in the process of chemical precipitation of uranium. The requirements imposed by the technological process, as well as the advantages and disadvantages of traditional mixing devices for pulps mixing in the mining and metallurgical industry have been studied. As an alternative to traditional forms of stirrers, a new type of conical mixer is being considered, which has a high potential for implementation, since it ensures the formation of large flakes with lower energy consumption.
Keywords: stirring device, suspension, uranium, precipitation, energy efficiency.
Р. 31-36
DOI: 10.53085/0034-026X_2022_07_36
УДК 622.24
Sklyanov V.I. (MGRI-RGGR)//sklianovvi@mgri.ru
Tungusov S.A. (MGRI-RGGR)//tungusovsa@gmail.com
Solovyov N.V. (MGRI-RGGR)//solovyevnv@mgri.ru
METHOD OF STUCK RELEASING AND LIFTING OF DRILL, AND CASING STRINGS WHILE DRILLING AND REPAIRING WELLS
The method of extracting the free part of the stuck pipe string from the well using a special device for unscrewing pipes in the well (URT) during drilling and workover of deep wells is described, which makes it possible to start work on extracting pipes by the unscrewing method without additional preparatory work. Researches and design and technological studies of the device (URT) are given, which allows to significantly increase the efficiency of using this method. The data of experimental and production studies are also given.
Keywords: device for unscrewing pipes in a well (UPD), emergency elimination, working drill string, sinus-ball transmission, brake mechanism, anchor shoes.
Р. 36-41
DOI: 10.53085/0034-026X_2022_07_41
УДК 553.689.2.061.62 (470.57)
Akhmanov G.G. (Tsniigeolnerud)//geoakhmanov@gmail.com
Egorova I.P. (Tsniigeolnerud)//bulatkina_geol@mail.ru
Bulatkina T.A. (Tsniigeolnerud)//irna65@yandex.ru
Bulatova G.N. (Tsniigeolnerud)//gulnara.bulatova@bk.ru
Polyukhova M.V. (Bogradsky GO)//geo@barit19.ru
THE STATE AND PROSPECTS OF DEVELOPMENT OF THE MINERAL RESOURCE BASE OF BARITE OF THE REPUBLIC OF KHAKASSIA
The problems of providing barite-consuming industries with raw materials, the only domestic suppliers of which are barite mining enterprises of the Republic of Khakassia, are briefly shown. A description of the barite resource base of the Republic is given, proposals are made for revaluation and expansion of it, including work on transferring the identified resources of stratiform-type objects into reserves, revision and geological and economic assessment of the potential of known vein deposits, and search for deposits of the residual type.
Keywords: barite, mineral resource base, deposit, formation, geological-industrial type, ore region.
Р. 41-49
DOI: 10.53085/0034-026X_2022_07_49
УДК 338.45
Dadykin V.S. (Bryansk State Technical Universit)//dadykin88@bk.ru
Dadykina O.V. (Bryansk State Technical Universit)//atamanova_2812987@mail.ru
METHODOLOGY OF FORMING AN INFORMATION MODEL FOR PLANNING GEOLOGICAL EXPLORATION BASED ON THE ONTOLOGICAL APPROACH
Currently, more and more attention is being paid to the processes of digitalization of individual industries and the national economy. In this sense, the geological industry is no exception. Digitalization of the geological industry, in our opinion, should be based on the creation of information data models capable of aggregating significant arrays of heterogeneous and heterogeneous information, as well as on machine learning methods and algorithms capable of implementing the functionality of decision support systems in this industry. The specifics of the industry require the development of the structure and composition of an ontological model capable of semantically integrating information resources. This article discusses one of the particular issues within the framework of the complex task of creating an ontology and thesaurus of geological information resources, namely, the methodology of forming an information model for planning geological exploration based on the ontological approach.
Keywords: information and analytical system, geological study of the territory, mineral resources, reproduction of mineral resources, geological information resources, geological and economic monitoring, ontological engineering.
Р. 49-53
DOI: 10.53085/0034-026X_2022_07_53
УДК 553.71:615.327 (470.638)
Pechenkin I.G. (VIMS) // pechenkin@vims-geo.ru
Zhidkova E.S. (Pirogov Russian National Research Medical Universit) // katyusha-z@inbox.ru
Kremkova E.V (Pirogov Russian National Research Medical Universit) // ekremkova@yandex.ru
SALT-ALKALINE SOURCES OF ESSENTUKI: DISCOVERY, STUDY, USE
In the 19th century, scientific study of the Caucasian mineral waters began. It was carried out in four stages. Initially, the Essentuki salt-alkaline springs did not arouse interest. The turning point was 1823, when A.P. Nelyubin investigated them. Since that time, attention has been paid to the source No. 17. It has become one of the main sources in the treatment of various diseases.
Keywords: Caucasian Mineral Waters, salt-alkaline springs, Essentuki No. 17.
P.53-61