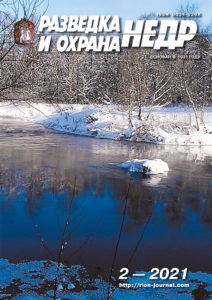 CONTENTS № 2/2021
GEOLOGY & METHODICS OF PROSPECT & EXPLORATION OF DEPOSITS
УДК 549:551.7 (470.320)
Chereshinskiy A.V. (FSEI HPE «VSU») // vsu31022@mail.ru
Savko A.D. (FSEI HPE «VSU») // savko@geol.vsu.ru
Shevyrev L.T. (FSEI HPE «VSU») // shevpp@yandex.ru
DISTRIBUTION AND FEATURES OF MINERAL INDICATORS OF KIMBERLITES FROM INTERMEDIATE RESERVOIRS OF THE VORONEZH ANTECLISE
The mineral indicators of kimberlites (MIK) within the Voronezh anteclise (VA) are distributed unevenly, both along the section and over the area. In the Devonian sediments, the MIK content is low, except for the rocks of the Mamon series in the southeast of the anteclise. Formations of the Aptian and Albian stages contain a record amount of indicator minerals. The Paleogene and Neogene deposits from the MIK are characterized by pyropes and, to a lesser extent, Cr-spinels.
Keywords: Voronezh anteclise, diamonds, Cr-spinels, pyropes, intermediate reservoirs
Р. 3-10
УДК 553.98:552.14
Gatiyatullin N.S. (Kazan Branch of the Federal Budgetary Institution «State Commission for Mineral Reserves»)// gatiyatullin@gkz-rf.ru
Baratov A.R. (Tatar Geological Prospecting Department (TGPD) of PJSC «Tatneft») // tgru@tatneft.ru
Gatiyatullin R.N. (Tatar Geological Prospecting Department (TGPD) of PJSC «Tatneft») // ramil@kazan.ru
PETROGENETIC MODEL OF THE SOUTH TATAR ARCH BASEMENT (STA) — THE MAIN PETROLIFEROUS STRUCTURE OF THE SEDIMENTARY COVER OF THE VOLGA-URAL PETROLEUM PROVINCE
The aspects of the deep structure and sedimentary cover of Tatarstan are considered. Scientific material handling of deep and ultra-deep wells has confirmed theoretical assumptions that on the significant depth crystalline basement is not a solid massive. It is an open system, in which gas-saturated solutions can circulate. South Tatar granite- gneissic dome spatially controlling oil bearing area of Tatarstan is characterized by the maximum perspective.
Keywords: athenolithic diapir, gassaturated solution, granite-gneissic dome, crustal granite formation, crystalline basement, oil fields, ultra-deep wells, heat and mass transfer, energy drain system.
Р. 10-14
GEOPHYSICS
УДК 550.814 528.77 528.871 528.88 (571.63 1-925.16)
Abushkevich S.A. (Laboratory for remote forecasting of mineral deposits) // niicosm_as@mail.ru
Arestova T.A. (Laboratory for remote forecasting of mineral deposits) // t.a.arestova@mail.ru
Volin K.A. (St. Petersburg State University, Institute of Earth Sciences) // k.volin@spbu.ru
Lipilin D.A. (Kuban State University, Kuban State Agrarian University named after I.T. Trubilin) // Lipilin_dmitrii@mail.ru
INTERPRETATION FEATURES OF THRUST-FOLDED STRUCTURES IN THE AFFORESTED AREAS OF THE BAIKALIA AND PRIMORSKY REGION BASED ON REMOTE SENSING
Thrust-folded structures were identified in the afforested areas by means of structural and tectonic interpretation of remote sensing data using data of spectral bands of the multi-spectral satellite Landsat and calculated vegetation indices NDVI, NDWI. Thrust-folded structures with a Southern and Eastern dip of the thrust surface planes were first identified with a high degree of reliability.
Keywords: Earth remote sensing, Landsat, afforested area, spectral anomalies, NDVI, NDWI, interpretation, thrust, folding.
Р. 14-23
HYDROGEOLOGY & GEOLOGICAL ENGINEERING
УДК 556.3.04:504.05 (470.345)
Zhivaykina V.V. (Mordovian Regional Office of RosGeo) // irina.mansurova1@gmail.com
THE PROBLEMS OF THE GROUNDWATER DEPOSIT SARANSKOE AND THE RESULTS OF ITS OPERATIONS
The article reveals: problems of depletion and pollution of carbon deposits of water-bearing complexes in the exploited areas of the water intakes of «Saranskvodokanal»; changes in the hydrodynamics and geochemical conditions of indicated water intakes as a result of long-term and massive water withdrawal from the deposits of the carbonic complex in the indicated areas; mass water withdrawal as a factor of changes in the geochemical composition of groundwater in these areas. One of the options for identifying patterns of these phenomena and a way to predict further dynamics is 3D modeling.
Keywords: head, piezoisogypsum, depression funnel, mineralization, operational load, depletion
Р.23-31
TECHNIQUES & TECHNOLOGY
УДК 622.725
Petrov S.V. (SPSU) // petrov64@gmail.com
Borozdin A.P. (LIMS) // borozdin@lims-lab.com
Golovina T.A. (Polymetal) // t.a.golovina@gmail.com
Shelukhina Yu.S. (SPSU, LIMS) // shelukhina@lims-lab.com
EXPERIENCE OF APPLICATION OF ORE PRECONCENTRATION WITH THE IMPLEMENTATION OF MODERN SENSOR TECHNIQUES
The article provides an overview of the application of modern methods of preliminary concentration of various ore types using sensor techniques and, above all, X-ray absorption (X-ray transmission) sorting (XRT). The physics of the method, limitations, and areas of application are presented. The XRT technology is compared with other methods of preliminary concentration. In addition, numerous examples of the application of the XRT concentration and sorting technique to various types of ores are given.
Keywords: pre-concentration, XRT, X-ray transmission sorting.
Р. 31-47
УДК 553.982.2
Bugrieva E.P. (VNIIHT) // otdel-a@vniiht.ru
Kazancev V.V. (VNIIHT) // otdel-a@vniiht.ru
Velitchkina N.S. (VNIIHT) // nefertari.88@mail.ru
Starodubov A.V. (VIMS) // sav@u238.ru
Gulynin A.V. (VIMS) // alexgu@u238.ru
Petrin A.V. (VIMS) // petrin-vims1@yandex.ru
ОN TECHNOGENIC CONCENTRATION OF NATURAL RADIONUCLIDES IN DRILL SLUDGE
The problems associated with the increased content of natural radionuclides in the sludge accumulators of the oil-producing enterprise are considered. The forms of finding and concentration of radionuclides affecting the technology of decontamination and utilization of oil-contaminated soils are determined. The main radionuclide, that generates increased γ-radiation, is Ra-226 and its daughter decay products, is isomorphically included in the crystal lattice of the newly formed radiolarite. To solve the issues of oil sludge disposal it is necessary to solve the problem of their radioactive safety.
Keywords: oil sludge, radionuclides, activity, radium, barite, isotope, decontamination, utilization.
Р. 47-53
УДК (696.6+628.9 622.143)(075.8)
Olivetskiy I.N. (MGRI-RGGRU) // filimona2007@mail.ru
Solovev A.M. (MGRI-RGGRU) // cyberlab@mail.ru
Bashkurov A.Yu. (MGRI-RGGRU) // Bashkurov_A@inbox.ru
ANALYSIS OF ENERGY PERFORMANCE IN DRILLING EXPLORATION WELLS USING UNREGULATED AND FREQUENCY-CONTROLLED ASYNCHRONOUS ELECTRIC DRIVE
The aim of the work is to analyze energy performance in drilling exploration wells using unregulated and frequency-controlled asynchronous electric drive.
Keywords: drill string model, transients, energy indicators.
Р. 53-55
BOWELS PROTECTION & ECOLOGY
УДК 631.124
Nadezhdina Yu.Yu. (National Research Tomsk Polytechnic University) // levak.yuliya@mail.ru
THE ROLE ROLE OF THE RELIEF IN THE DEVELOPMENT OF SLOPE PROCESSES ON THE EXAMPLE OF THE ELEGEST-KYZYL-KURAGINO RAILWAY CONSTRUCTION AREA
This article is devoted to the analysis of the relief and its influence on the development of sloping geological processes in the area of the designed Elegest-Kyzyl-Kuragino railway. The territory under study is poorly understood, and therefore there is a need to study natural conditions, as well as to analyze the possibility of slope processes and the possibility of their negative impact on engineering structures. In the work, space images are analyzed and maps of slopes and slope expositions are constructed.
Keywords: Kyzyl, Kuragino, railway, geotechnical processes, space images, slope, slope exposure.
Р. 55-59
УДК 550.8.028+553.495
Terovskaya T.S. ( Seversk Technological Institute of National Research Nuclear University MEPhI)  // tsterovskaya@mail.ru
Kesler A.G. ( Seversk Technological Institute of National Research Nuclear University MEPhI)  // arcanag@mail.ru
Laptev Yu.I. ( DALUR)  // info@dalur.ru
Noskov M.D. ( Seversk Technological Institute of National Research Nuclear University MEPhI) // md_noskov@mail.ru
Solodov I.N. (Atomredmetzoloto)  // insolodov@armz.ru
MODELING THE GEOECOLOGICAL CONSEQUENCES OF THE DEVELOPMENT OF URANIUM DEPOSITS BY THE IN-SITU LEACHING PROCESS
The behavior of various pollution indicators, such as uranium, sulfuric acid, sulfate ion, iron, aluminum, etc., was considered. The software is presented that can describe the migration of polluting components in the process of downhole leaching and after its completion is presented.
Keywords: geotechnological modeling, in situ leaching, geoecology, migration of pollutants, ecology, mathematical modeling.
Р. 59-65