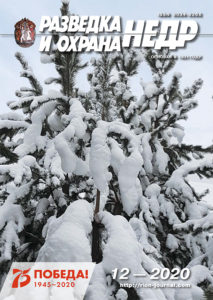 CONTENTS № 12/2020
ON THE 75-TH ANNIVERSARY OF THE GREAT VICTORY
УДК 947.085
Antonenko L.A. (VIMS, compiler) // antonenkol@yandex.ru
OR VIKTOROVICH SHCHERBAK — WAR VETERAN, SCIENTIST, INVENTOR AND POET
This article based on the memoirs of Or Viktorovich Shcherbak, a front — line geologist who took part in military operations during the Great Patriotic War on the Leningrad front. After completing it, he graduated from Voronezh state University and worked at VIMS for more than 60 years. Keywords: Cherbak O.V., WIMS, Great Patriotic War.
Р. 3-6
GEOLOGY & METHODICS OF PROSPECT & EXPLORATION OF DEPOSITS
УДК 528.942:550.4:553(575.1)
Isokov M.U. (Institute of Mineral Resources, State Committee of the Republic of Uzbekistan on Geology and Mineral Resources, Tashkent, Uzbekistan) // info@gpniimr.uz
Movlanov Zh.Zh. (Institute of Mineral Resources, State Committee of the Republic of Uzbekistan on Geology and Mineral Resources, Tashkent, Uzbekistan) // jahongir79@mail.ru
Maripova S.T. (Institute of Mineral Resources, State Committee of the Republic of Uzbekistan on Geology and Mineral Resources, Tashkent, Uzbekistan) // info@gpniimr.uz,
Abdullaev L.A. (Institute of Mineral Resources, State Committee of the Republic of Uzbekistan on Geology and Mineral Resources, Tashkent, Uzbekistan) // info@gpniimr.uzИсоков
MODERN METHOD OF COMPLETING A SET OF GEOCHEMICAL MAPS OF 1:1.000.000 TIEN SHAN OROGENIC BELT OF TERRITORY OF THE REPUBLIC OF UZBEKISTAN
The process of geochemical mapping on a scale of 1:1.000.000 of the territory of Uzbekistan included a complex of studies. Field, office and laboratory work was carried out on the territory of the Republic of Uzbekistan, as well as case studies with the creation of a local database.
Keywords: geochemistry, Tien Shan, orogenic belt, optical emission analysis ICPE9000, metallogenic province, metallogenic region, pre-Mesozoic basement, mountain and foothill regions, geochemical envelopes and anomalies, forecast, geochemical map.
Р. 7-19
УДК 553.93
Coldatov K.V. (UK «Northern Star») // Kirgeol@mail.ru
NEW DATA ON COAL CONTENT OF PERM DEPOSITS OF WESTERN TAYMYR
Discovery of Malolemberovskoe coal deposit have been of grate significance for assimilation prospects of western part Taymyre basin. This can be a very good impulse for increase the mineral base of Russian Arctic zone in the future. Development coal mining industry of Taimyrian basin may be direct at the delivery cargo into western Russia and Europe across Northen sea way.
Keyswords: Taymyrian coal basin, anthracite, Malolemberovskoe coal deposit, inferred and indicated resources.
Р. 19-28
TECHNIQUES & TECHNOLOGY
УДК 537.622/622.75
Bronitskaya E.S. (VIMS) // vims@df.ru
Anufrieva S.I. (VIMS) // anufrieva.05@mail.ru
Kydzxy M.V. (VIMS) // margo_898989@mail.ru
Fokin M.A. (VIMS) // fokin@vims-geo.ru
Grishaev G.S. (VIMS) // grishaevgeorgiy@gmail.com
Lyubimova E.I. (VIMS) // technology@vims-geo.ru
Rassulov V.A. (VIMS)
ENRICHMENT OF PRIMARY KAOLINS OF THE URALMUGODZHAR PROVINCE IN ORDER TO INCREASE THE EFFICIENCY OF DEVELOPMENT OF THE DOMESTIC MINERAL RESOURCE BASE OF KAOLINS
In order to increase the efficiency of developing the domestic mineral resource base of kaolins, methods of mineral processing of natural varieties of kaolins has been studied. It will subsequently improve the quality of final products and produce scarce kaolin grades based on domestic raw materials, today are mostly imported from Ukraine and the EU.
Keywords: mineral processing, kaolins, gravity method, raw materials.
Р. 28-34
УДК 621.643.622
Ivanov D.A. (Weatherford Company ) // dexhouse@ya.ru
Arsentev Yu.A. (MGRI-RGGRU) // аrsentev1956@yandex.ru
Solovev N.V. (MGRI-RGGRU) // nvs@mgri-rggru.ru
Ivanov A.G. (Atomredmetzoloto)  // AlekGeorIvanov@armz.ru
Nazarov A.P. (MGRI-RGGRU) // al.naz@mail.ru
Barashkov V.A. (MGRI-RGGRU) // barashkovva@mgri.ru
USE OF CHPP ASH WASTE TO PREVENT CONTAMINATION OF SUBSOIL WITH PROCESS SOLUTIONS DURING CONSTRUCTION, REPAIR AND LIQUIDATION OF UNDERGROUND URANIUM LEACHING (SPV) WELLS
An analysis of the factors affecting the quality of well cementing is given. It shows the impossibility of using technological techniques in cementing the back-room space of technological wells of a single-column structure with the descent of the filter on the operating column. The possibility of using ash-carrying from electrofilters of the CHP for the construction, repair and elimination of underground uranium leaching wells is shown. The sorbational properties of ash-easure have been investigated and the possibility of its use for cleaning of various solutions containing both acid and anions of different compositions has been shown.
Keywords: uranium mining, wells, cementing, ash-carrying, construction, repair and disposal of wells, sorbation properties of ash-carrying.
Р. 34-41
MANAGEMENT & ECONOMICS
УДК 553.61:549.08:622.7+666.715 (470)
Vasyanov G.P. (TSNIIgeolnerud) // root@geolnerud.net
Kornilov A.V. (TSNIIgeolnerud) // anwakor55@mail.ru
Sadykov R.K. (Tatarstan branch of the FBU and TFGI in the Volga Federal District, TSNIIgeolnerud) // root@geolnerud.net
THE GEOLOGICAL AND TECHNOLOGICAL STUDY OF BRICK AND TILE RAW MATERIALS — THE BASIS FOR THE FORMATION OF A NEW INDUSTRIAL POLICY IN CERAMIC PRODUCTION
An innovative approach to the geological and technological study of brick and tile materials contributes to the implementation of a new industrial policy in the production of ceramic wall materials related to the adaptation of effective modern domestic and foreign technologies. Brick-tiled raw materials are included in a large group of common minerals and are quite widely represented in the territories of the Russian Federation. Such an approach will make it possible to produce competitive products for the construction industry in order to solve an important socio-economic problem, primarily to provide the country's population with comfortable housing.
Keywords: brick and tile raw materials, common minerals, geological and technological study, ceramic wall materials, comfortable housing.
Р. 41-47
УДК 338.45
Dadykin V.S. (Bryansk State Technical University) // dadykin88@bk.ru
Dadykina O.V. (Bryansk State Technical University) // atamanova_281287@mail.ru
THE ALGORITHM FOR FORMING INFORMATION MODEL FOR DETERMINING ECONOMIC EFFICIENCY OF DEPOSIT DEVELOPMENT
In the process of making a decision on the feasibility of conducting geological exploration on a subsurface area, it is usually necessary to calculate and analyze a large number of geological and economic indicators. These include the net present value, the internal rate of return, and the payback period for investment. The peculiarity of this group of indicators is that their calculation and analysis must be carried out in a dynamic mode, within the framework of permanent geological and economic monitoring. To automate the dynamic assessment process, these and a number of other important geological and economic indicators are combined into an information model. The formation of such an information model must be carried out according to a specific algorithm. This article is devoted to the development of such an algorithm.
Keywords: geological and economic assessment, information model, economic efficiency, geological and economic monitoring.
Р. 48-50
BOWELS PROTECTION & ECOLOGY
УДК 622.85:504.064.2
Tselyuk D.I. (ЩKrasnoyarsk Research Institute of Geology and Mineral Raw Materials) // tselukdi@mail.ru
Tselyuk I.N. (Siberian Federal University) // intseluk@mail.ru
ANTHROPOGENIC RELEASES OF MERCURY INTO THE ENVIRONMENT DURING STORAGE OF TAILINGS FROM LEAD-ZINC ORES
The article is devoted to the actual problem of the placement and storage of tailings of lead-zinc ore dressing. Studies show that as a result of technological operations, hazardous substances in the tailings enter industrial waste storage facilities. Among hazardous substances, mercury is present. The concentration of technogenic mercury in tailings can reach 80 tons. The forms of metal occurrence in technogenic mineral formations were studied, the migration properties of mercury were analyzed, and pollution of surface watercourses was tracked. Recommendations on improving the system of environmental monitoring and production control at the facilities for the placement of industrial wastes of lead-zinc mineral raw materials are proposed.
Keywords: Company Novoangarsk processing plant, ore tails, mineral composition, mercury, environment and natural resources research.
Р. 50-57
УДК 55:502.4:550.422:581.1
Dorokhova L.A. (TPU) // liubov.ad@yandex.ru
Yusupov D.V. (TPU) // yusupovd@mail.ru
Rikhvanov L.P. (TPU)
Sudyko A.F. (TPU) // afs@tpu.ru
Baranovskaya N.V.(TPU) // nata@tpu.ru
Radomskaya V.I. (IGiP FEB RAS) // radomskaya@ascnet.ru
Pavlova L.M. (IGiP FEB RAS) // pav@ascnet.ru
RARE-EARTH ELEMENTS AND THEIR FORMS IN DUST PRECIPITATIONS ON POPLAR LEAVES SURFACE AS INDICATORS OF GEOLOGICAL ENVIRONMENT AND TECHNOGENESIS
The influence of both natural geological-geochemical and technogenic factors on content and distribution of rare-earth elements (REE) in poplar leaves in urban areas of Siberia, the Far East and Kazakhstan has been studied. Average, background and anomalous REE contents within transregional tectonic frameworks are estimated. The ratios of light and medium REE are geochemical indicators of the impact technogenic factors. Atmospheric dust transport from the ash and slag waste dumps of power plants, industrial sites, alluvial terraces etc. The form of rare earth elements discovery are established.
Keywords: rare earth elements (REE), poplar leaves, urban areas, geological environment, technogenesis, SEM-EDS.
P. 57-66