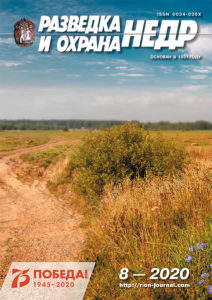 CONTENTS № 8/2020
ON THE 75-TH ANNIVERSARY OF THE GREAT VICTORY
УДК 94(47).084.8«1941/1945»
Bogomolov Yu.G. // y.g.bogomolov@mail.ru
Bogomolov G.Yu. // y.g.bogomolov@mail.ru
PROFESSOR-HYDROGEOLOGIST G.V. BOGOMOLOV DURING THE GREAT PATRIOTIC WAR OF 1941–1945
The article briefly examines the biography of Professor G.V. Bogomolov during the events of the late 1930s — mid1940s. The main works of the outstanding scientist during the great Patriotic war, which made a significant contribution to the Victory, are highlighted. The role of Gerasim Vasilyevich in the use of biolocation for the search for groundwater is shown. The works of his colleagues, with whom G.V. Bogomolov conducted research in various regions of the USSR, solving the most difficult national economic problems, shoulder to shoulder during the war, are presented.
Keywords: professor G.V. Bogomolov, Great Patriotic war, hydrogeology.
p. 3-7
GEOLOGY & METHODICS OF PROSPECT & EXPLORATION OF DEPOSITS
УДК 550.422:550.84.053:553.044
Silin I.I. (IMGRE) // igorivsil@yandex.ru
Kilipko V.A. (IMGRE) // kilipko@rambler.ru
Mezhelovskiy N.V. (Geocart) // centergeokart@mail.ru
Mezhelovskiy I.N. (Geocart) // centergeokart@mail.ru
ATOMIC AND MOLECULAR ESTIMATES OF FORECAST MINERAL RESOURCES
The substantiation and technology of calculation of forecast resources on geochemical data on the basis of atomic and molecular models of distribution of chemical elements in the upper part of the continental crust are stated.
Keywords: atomic model, mineral model, forecast of mineral resources.
p. 8-14
УДК 553.5:549 (64)
Petrochenkov D.A. (MGRI) // p-d-a@mail.ru
Iospa A.V. (VIMS) // ada-heals@mail.ru
Krivoshchekov N.N. (VIMS) // vims-niknik@mail.ru
MIDDLE JURASSIC JEWELRY AMMONITES OF MOROCCO. MINERAL COMPOSITION, GEMMOLOGICAL CHARACTERISTICS
Ammonites of jewelry-ornamental quality from Morocco for a long time in large volumes enter the world market, including the Russian. The article presents for the first time the results of detailed mineralogical studies of Middle Jurassic jewelry-grade ammonites from Morocco. Ammonites consist mainly of goethite from 26 to 94 wt. % and calcite from 1 to 56 wt. %, in significant quantities, barite is present from 2 to 20 wt. %; hematite, quartz, chlorite, kaolinite, fluorapatite, celestine, dolomite, titanium dioxide, zircon, monazite and the X-ray amorphous phase have been identified. Monazite is a secondary mineral formed after goethite, performing voids in it. Aragonite, forming the initial shell of ammonite, was not found. Of the impurity elements, increased contents of V, Co, Ni, Cu, Zn, As, Sr, Pb are recorded. According to the decorative and technological characteristics, the Middle Jurassic ammonites of Morocco are high-quality jewelry material.
Keywords: ammonite, jewelry raw materials, Jurassic deposits, hematite, calcite, monazite,
Morocco.
p. 14-20
GEOPHYSICS
УДК: 550.343; 556.38; 556.5.01; 550.37
Manukyan V.A. (Spetsgeoekologiya) // manval36@gmail.com
GENESIS OF UNDERGROUND RADON AND ITS MONITORING FOR EFFECTACTIVE INDICATION OF STRESS-DEFORMED STATE OF EARTH CRUST IN ZONES OF MODERN TECTONIC DISTURBANCES
The subject of this article concers the anomalous position of the subsurface radon in modern tectonic breaks of the zone above free water level, genesis, interaction with the regional and global seismic events, tidal processes, relationship with groundwaters and atmospheric pressure, coincidence in time of radon anomalies and industrial incidents, the influence of these anomalies on biological objects.
Keywords: modern tectonic breaks, zone above free level water, subsoil radon, gamma-radiation well logging, monitoring of natural parameters, stress strain state, doubling trunks, electromagnetism impulses.
p. 20-35
TECHNIQUES & TECHNOLOGY
УДК 550.4:552.11
Robertus Yu.V. (IWEP SB RAS) // ariecol@mail.gorny.ru
Stepanov V.A. (SRGTC FEB RAS) // 30.vitstepanov@yandex.ru
Richvanov L.P. (SRTPU) // rikhvanov@tpu.ru
Lubimov R.V. (IWEP SB RAS) // ariecol@mail.gorny.ru
IlyenokS.S. (SRTPU) // ilenokss@tpu.ru
ABOUT THE NATURE AND PROSPECTS OF GOLD CONTENT OF WASTE OF PROCESSING OF MERCURY ORES OF THE AKTASH DEPOSIT (GORNY ALTAI)
Data on the industrial gold content of sludge formed during the processing of mercury ores of the Aktash Deposit were obtained for the first time. A direct relationship between the content of mercury and gold in ore processing waste and contaminated soils has been established. The presence of gold in the waste in the form of amalgam and mercury gold is assumed. Technogenically remobilized type of gold content of ore processing waste was justified.
Keywords: Aktash deposit, waste, mercury, gold, amalgam, remobilization.
p. 35-40
УДК 622.23.05
Ivanov A.G. (Atomredmetzoloto) // AlekGeorIvanov@armz.ru
Mikhaylov A.N. (Hiagda) // Mihailov.A.N@hiagda.ru
Alekseev N.A. (Hiagda) // Mihailov.A.N@hiagda.ru
Ivanov D.A. (Weatherford Company) // dexhouse@ya.ru
Arsentiev Yu.A. (Hiagda) // аrsentev1956@yandex.ru
Solovev N.V. (Hiagda) // nvs@mgri-rggru.ru
Nazarov A.P. (Hiagda) // al.naz@mail.ru
TECHNICAL MEDIA FOR THE REPAIR-HEALTH WORK ON TECHNOLOGICAL WELLS OF THE NEW WORLD
Repair and restoration work on technological wells is an important type of work that ensures effective development of productive blocks of uranium deposits. At the same time, the performance of works largely depends on the quality of casing pipes that make up the production column, which can change its shape due to a number of reasons, such as large ovality, difference, low quality of threaded connections, deformation of pipes with changes in the temperature of working solutions, loss of longitudinal stability of the column, etc., which leads to difficulties in the descent of special control and repair equipment into the well. The article provides recommendations on the use of certain types of technical means and methods necessary to restore the geometric dimensions of pipes and tightness of production columns.
Keywords: technological well; production column; threaded connection; impermeable screens; hardening materials; defrost; filter.
p. 40-45
MANAGEMENT & ECONOMICS
УДК [556.3:553…+556.3:551.7]575.16
Bakiev S.A. (Hydroingeo Institute, Republic of Uzbekistan)
Ibragimov A.S. (Hydroingeo Institute, Republic of Uzbekistan) // aziz56@mail.ru
Ismailov B.Zh. (Hydroingeo Institute, Republic of Uzbekistan)
GEOLOGICAL AND ECONOMIC ASSESSMENT OF PRODUCED INDUSTRIAL WATERS OF UZBEKISTAN ON PRODUCTION OF RAW HYDROCARBONS
The article describes the main parameters for assessing industrial waters extracted from the subsoil during hydrocarbon production. It is proved the practicality of their use as hydro mineral raw materials for the extraction of rare elements and gold.
Keywords: produced waters, oil-gas fields, micro components, industrial water, geological and economic assessment.
р. 45-48
BOWELS PROTECTION & ECOLOGY
УДК 550.7+551.2.01:616-036.2
Belov S.V. (OZGEO) // belov.s-2011@yandex.ru
Wolfson I.F. (RosGeo) // rosgeo@yandex.ru
CORONAVIRUS, ENDOGENOUS EARTH ACTIVITY AND SOCIETY
In connection to the pandemic of COVID-19, the manifestations of epidemics and pandemics that befell humanity throughout its long history is considered. Exponential growth of their number and degree of catastrophic is shown. Their interrelations with such manifestations of endogenous activity of the Earth as seismicity, volcanism, etc., as well as the relationship of these components of the geological life of the Planet with various social cataclysms have been analyzed. The conjoint analysis of geo-bio-social process as a single phenomena has made it possible to develop prognostic problems indicating that in the coming years the world community can expect disasters of diverse nature. In the Far Eastern Federal District of Russia its recommended to create an interdisciplinary center for the comprehensive study and monitoring of geo-bio-social processes.
Keywords: coronavirus, endogenous activity of the Earth, Geo-Bio-Social processes
p. 48-54
HISTORIOGRAPHY
УДК 550.4:550.849:550.8
Mezhelovskiy N.V. (Geokart) // centergeokart@mail.ru
Kilipko V.A. (IMGRE) // geochemmap@imgre.ru
ANDREY FEDOROVICH MOROZOV BECOMING HEAD OF THE REGIONAL DIRECTION OF THE GEOLOGICAL SERVICE OF RUSSIA
The paper presents the milestones of biography, the academic and service career, which lead Dr. Andrey F. Morozov, a hereditary geologist, to a head position in the regional geological studies management in Rosnedra Federal Agency.
Keywords: personalia, hereditary geologist, Lomonosov Moscow State University, Polar Urals, Tyumen region, regional geological research, Ministry of Geology of the USSR, Ministry of Natural Resources of the Russian Federation, Rosnedra Agency, multi-purpose geochemical mapping
p. 54-59