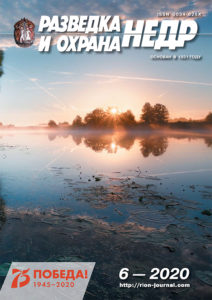 CONTENTS № 6/2020
ON THE 75-TH ANNIVERSARY OF THE GREAT VICTORY
УДК 725.945.1:55
Pechenkin I.G. (VIMS) // pechenkin@vims-geo.ru
MEMORY AND SORROW FROZEN IN BRONZE (THE HISTORY OF THE CREATION OF THE MONUMENT «GEOLOGISTS WARS, 1941–1945»)
In the first two weeks of World War II, a large group of VIMS specialists went into the army and the militia. 26 of them died. Erected in 1955, a stele commemorates the dead employees of the institute, has become a symbol of our invincibility. At the end of 1979, at the suggestion of the VIMS Veterans Council, a decision was made to reconstruct the monument. The monument was erected from bronze and red granite from Suskjuansaari deposit, since 1986 — the center of the annual celebration of Victory Day by the geological community of Moscow.
Keywords: The Great Patriotic War, VIMS, granite, Suskuyansaari.
p. 3-9
GEOLOGY & METHODICS OF PROSPECT & EXPLORATION OF DEPOSITS
УДК 553.495.065(571.53)
Makaryev L.B. (VSEGEI) // оgumr@vsegei.ru
Mironov Yu.B. (VSEGEI) // оgumr@vsegei.ru
Efremova U.S. (VSEGEI) // оgumr@vsegei.ru
GEOLOGICAL SETTINGS AND AGE LIMITS OF URANIUM MINERALIZATION FORMING OF THE PATOM HIGHLANDS (NORTHERN TRANSBAIKALIA)
Geological and age features of uranium mineralization forming of the Patom Highlands, developed in the Tonoda and the Nechera uplifts are being analyzed. The conclusion of belonging of uranium mineralization of the Patom Highlands to the geological industrial type of vein hydrothermal deposits is being substantiated. Recommendations on direction of further geological research works in the Northern Transbaikalia region are being suggested.
Keywords: uranium, hydrothermal mineralization, Bulbukhta and Tuyukan uranium ore clusters, Tonoda and Nechera uplifts, Patom Highlands.
p. 9-18
УДК 546. (23+24):553.3.04(047)
Ezhkov Yu.B. (Institute of Mineral Resources, Tashkent, Uzbekistan) // info@gpniimr.uz
Rakhimov R.R. (Institute of Mineral Resources, Tashkent, Uzbekistan) // Rrahmon4646@.com
Holiyorov A.T. (Institute of Mineral Resources, Tashkent, Uzbekistan) // xoliyorovanvar@gmail.com
Rustamzhonov R.R. (Institute of Mineral Resources, Tashkent, Uzbekistan) // ravjon89@gmail.com
SELENIUM AND TELLURIUM IN UZBEKISTAN AND IN THE WORLD. APPLICATION, PROSPECTS OF EXPLORATION, ASSESSMENT AND DEVELOPMENT
The main features of geochemistry, mineralogy, and formation conditions in endogenous and exogenous processes of selenium and tellurium deposits in Uzbekistan, Kyrgyzstan, and Tajikistan are considered.
Keywords: selenium, tellurium, geochemistry, mineralogy, deposit, application.
p. 19-30
УДК 553.284:553.24(235.211)
Litvinenko A.K. (MGRI-RGGRU) // akl1954@yandex.ru
Romanova E.I. (MGRI-RGGRU) // eiromanova@hotmail.com
PERICLASE IN MAGNESIAL SKARNS OF ABYSSAL FACLES OF KUHILAL DEPOSIT, SOUTH-WEST PAMIR
The Deposit of jeweler spinel, forsterite and clinohumite is localized In The South-Western Pamir, which has undergone metamorphism of granulite, high-temperature amphibolite, epidote-amphibolite and green shale facies. A periclase is installed in the Main zone of magnesian skarns. It forms three parageneses: periclase + forsterite, periclase + spinel, and periclase + clinohumite. Periclase which is «forbidden» for high-pressure conditions of metamorphism was formed in magnesian skarns of abyssal facies not by reaction of decarbonatization of magnesian carbonates, but as result of replacing minerals of sulphates and chlorides of magnesium. Brucite which is widespread in the Deposit, is formed by hydration of periclase, but not by substitution of spinel as previously thought. This is confirmed by the absence of aluminum oxides, which would originate with replacing spinel, but they are not in paragenesis with brucite. Periclase can be considered as an indicator of the presence of magnesia sulfates and chlorides in the evaporite proto-matter of the Kuhilal Deposit.
Keywords: South-Western Pamir,goran series, magnesian skarns, magnesian sulphates, periclase.
p. 30-34
HYDROGEOLOGY & GEOLOGICAL ENGINEERING
УДК 553.98(575.13)
Juraev M.R. (Institute of hydrogeology and Engineering Geology, State committee for Geology and Mineral Resources of the Republic of  uzbekistan) // juraevm@inbox.ru
REFINING HYDRODYNAMIC AND GEOTHERMAL FACTORS IN THE FORMATION OF HYDROGEN SULFIDE WATER IN THE ARTESIAN BASINS OF THE REPUBLIC OF UZBEKISTAN
Bukhara-Khiva basin. The formation of hydrogen sulfide as a result of thermochemical reduction of sulfates by methane at a temperature of about 80–100 °C of gas fields in the Bukhara-Khiva basin is confirmed by experiments conducted by S.M. Grigoriev, Sakai (Sakai H., 1957), S.D. Malinin and N.I. Khitarov (1969). Surkhandarya artesian basin. The hydrodynamic pressure of groundwater in the eastern part of the artesian basin is present due to tectonic disturbances and a weak slope of the sedimentation. As a result, microbes (organic substances) are excited in the oil column, sulfate-reducing processes occur and, as a result, the hydrogen sulfide waters of the Paleogene are formed. Ferghana artesian basin. The water pressure system is more active in the oil and gas fields on the southern side of the Fergana Depression due to the Paleogene sequence lying close to the earth's surface, steeply going to a depth along the slope of the hollow and crossed by a group of longitudinal tectonic faults. Average temperatures of the productive horizon of oil and gas deposits on the southern side of the Ferghana Depression, where hydrogen sulfide waters are formed, range from 28 to 48 °C.
Keywords: formation temperatures, piezometric pressure, productive horizon, gas and oil field, artesian basin, thermochemical process.
p. 34-46
TECHNIQUES & TECHNOLOGY
УДК 541.123+549.517.2+549.621.7:622.78+553.494'311(470.5)
Gorbatova E.A. (VIMS) // lena_gorbatova@mail.ru
Pirogov B.I. (VIMS) // pirogov_bi@inbox.ru
Kolkova M.S. (MSTu named after G.I. Nosov)  // sibra115@bk.ru
Sysoev V.I. (MSTu named after G.I. Nosov)  // viktor.sysoev.86@yandex.ru
Iospa A.V. (VIMS)  // ada_heals@mail.ru
HETEROGENEITY OF PSEUDOBRUCITE-HEMATITE MICROAGGREGATES OCCURRING DURING OXIDATIVE ROASTING OF TITANIUM-MAGNETITE ORES OF THE MEDVEDEVSKY DEPOSIT
Currently, only low titanium iron ores are being processed. Obtaining conditioned products as a result of the beneficyation of high-titanium ores at the present stage of development of beneficyation technologies is difficult. The process of roasting of titanomagnetite ores is accompanied by a redistribution of chemical elements and the formation of new, more stable phases with their subsequent enlargement. Thus, the separation of titanium-containing and iron-containing minerals occurs, which may have positively influence to their mechanical separation process.
Keywords: heat treatment, iron-titanium ores, titanomagnetite, ilmenite, phase heterogeneity, structural heterogeneity.
p. 47-52
УДК 622.23.05
Ivanov А.G. (Atomredmetzoloto) // AlekGeorIvanov@armz.ru
Michaylov А.N. (Hiagda) // Mihailov.A.N@hiagda.ru
Alekseev N.А. (Hiagda) // Mihailov.A.N@hiagda.ru
Ivanov D.А. (Weatherford company 4) // dexhouse@ya.ru
Arsentev Yu.А. (MGRIRGGRu) // аrsentev1956@yandex.ru
Solovev N.V. (MGRIRGGRu) // nvs@mgri-rggru.ru
Nazarov А.P.( MGRIRGGRu)  // al.naz@mail.ru
TECHNICAL MEDIA FOR THE REPAIR-RESTORATION WORK ON TECHNOLOGICAL WELLS
Repair and restoration work (RRW) is carried out to maintain the parameters of technological wells within the design values. This allows the uranium deposits to be effectively developed by the well-in-depth leaching (SPR). In terms of importance and complexity, RRW can be equated with work on the construction of SPR technology wells. RRW is divided into four main areas: maintaining and improving well productivity; repairing operating columns; extraction of foreign objects from wells; special work in wells. This work attempts to organize the types of RRW and identify the equipment required for each type of work.
Keywords: well uranium mining; technological wells repairs and restoration work; equipment and a tool for repair and restoration work.
p. 52-57
MANAGEMENT & ECONOMICS
УДК 553./9.042+347.249+333.8+330.191.4(471+571)
Sadykov R.K. (TFGI For Volga Federal District, TSNIIgeolnerud) // tlir@inbox.ru
 ON THE NECESSITY OF AMENDMENTS TO THE LAW OF THE RUSSIAN FEDERATION «ABOUT THE SUBSOILS» IN PART OF COMMONLY USEFUL MINERLS
In connection with the adoption in 2003 of Federal Law No. 131 «On General Principles of the Organization of Local Self-Government in the Russian Federation», adjustments were made in a number of federal laws. In the Law of the Russian Federation «About the Subsoils», currently in force since 1992, and for more than 27 years, structural changes have not been made in connection with the adoption of this law and the ongoing reform on the organization of local selfgovernment in the country. Currently, about 25 thousand local governments in the country, their vast majority of budgets are subsidized. One of the sources of replenishment of funds in the budgets of municipalities may be the development of deposits of common minerals, the number of which exceeds 20 thousand in the country. Based on the analysis from various sources, the importance of common minerals for various industries and agriculture is shown, their development can initiate socio-economic development of municipalities. At the same time, one of the constraining factors is the lack of a single conceptual terminological base in the Law of the Russian Federation «About the Subsoil» regarding common minerals. In this regard, amendments to this law are proposed. In addition, an inventory and certification of mineral resources related to common mineral resources are necessary to create an intersectoral technological map for obtaining liquidity of products. Keywords: common mineral resources, the subject of the Russian Federation, directions of use, the Law of the Russian Federation «About the Subsoil», adjustment, subsoil sections of municipalities, inter-branch technological map.
p. 57-64
Remizova L.I. (VIMS) // remizova@vims-geo.ru
DIRECTIONS OF DEVELOPMENT OF RAW MATERIAL BASE OF TITANIUM IN THE WORLD
Projects for the development of titanium deposits in the world are considered. Geological characteristics of developing deposits, their resources and reserves, mineralogical characteristics of titanium ore and flowsheets of their beneficiation, titanium and other concentrates production, performance indicators of the designed enterprises are given. Titanium mineral concentrates price charts in 2018–2019 are also given.
Keywords: titanium, deposit, resources, reserves, project, titanium concentrates, price.
p.64-74
BOWELS PROTECTION & ECOLOGY
УДК 628.169.7+556.461
Dolgopolova O.N. (RN-Middle Eastern company) // ondolgopolova@mail.ru
Hudoyorova Z.D. (MGRI-RGGRu) // khudoyorova09@mail.ru
MODERN TECHNOLOGIES FOR CLEANING WATER BODIES FROM OIL-CONTAMINATED BOTTOM SEDIMENTS USING GEOCONTAINERS
Bottom sediments of anthropogenic and natural origin worsen the environmental and sanitary status of waterbodies. When it is impossible to self-purify closed reservoirs from bottom sediments, a gradual siltation, overgrowing and formation of land from alluvial sediments and dead biomass during swamping the coast occurs. When cleaning waterbodies, dewatering of bottom sediments in geotextile containers is widely used.
Keywords: bottom sediments, oil pollution, waterbodies cleaning, geo-container.
p. 75-76