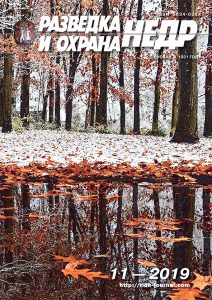 CONTENTS № 11/2019
GEOLOGY & METHODICS OF PROSPECT & EXPLORATION OF DEPOSITS
УДК 061.62+550.8:553.494'311(470.8)
Lugovskaya I.G. (VIMS) // lig_vims@mail.ru
Yakushina O.I. (VIMS) // yakfibio@gmail.com
Pechenkin I.G. (VIMS) // vims-pechenkin@mail.ru
Prudnikov I.A. (VIMS) // prydnukov@gmail.com
DEVELOPMENT AND ADVANCEMENT OF A COMPREHENSIVE PROCESSING TECHNOLOGY FOR TITANOMAGNETITE ORE OF THE URALS DEPOSITS BY VIMS
The article is dedicated to the important role of a complex approach to the development and processing of the Urals titanomagnetite deposists in the framework of the scientific research cycle carried out by the All-Russian Scientific-Research Institute of Mineral Resources. It focuses on the sequence of titanomagnetite deposits prospecting and exploration, methods to study rocks and ores composition, features of titanomagnetite, in particular, for the production of titanium white. The article considers the methodology for finding the optimal way to enrich the minerals, in which all valuable components of the ore could be used. Researchers of the Institute have compiled a geological map of titanomagnetite deposits in the Urals, conducted their exploration and created reserves to meet the needs for mineral raw materials of the Kussinsky plant. As a result of the work carried out in 1927-1937, a raw material base was created for the domestic paint industry and for the further development of iron and vanadium production.
Keywords: titanomagnetite, ore deposits, exploration, methodology, complex method, processing, titanium white.
Р. 3-12
УДК 553.411: 553.491.8(470.325)
Reznikova O.G. (Voronezh State University) // reznikova_o@bk.ru
Kuznetsov V.S. (Voronezh State University) // voronezhpodkl@inbox.ru
Boyko P.S. (Voronezh State University) // voronezhnedra@yandex.ru, voronezh@rosnedra.gov.ru
NOBLE-METAL MINERALIZATION IN FERRUGINOUS QUARTZITES AND SCHIST KMA
At a research of technological tests on рrecious mineralization in ferruterous quartzites and interore shale of Lebedinsky and Stoylensky deposit KMA were revealed two generation of native gold in steady association with sulfides, bismuth minerals, tellurium minerals and other connections. The first, associated with metamorphogenic processes, accumulated high-grade gold. Gold of second generation is confined to the sulfide-quartz hydrothermal ore occurences, associated with Paleoproterozoic intrusions.
Keywords: ferriterous quartzites, interore shales, рrecious mineralization, forms of origin, gold.
Р. 12-15
HYDROGEOLOGY & GEOLOGICAL ENGINEERING
УДК 556.3.01
Dubinskiy A.P. (Rosgeologia, Far East production and geologic Association) // apdubinsky@mail.ru
HYDROGEOLOGICAL STRATIFICATION. UNANSWERED QUESTIONS
The questions of improving the guidelines on hydrogeological stratification over the past 30 years are considered. The analysis of the last negative changes made in hydrogeological certification. The proposals for improving the principles of hydrogeological stratification are given and the conclusion is made about the need to update the methodological guidelines taking into account the practical experience of regional hydrogeological works.
Кeywords: hydrogeological stratification, horizon, complex, floor, zone.
Р. 16-21
TECHNIQUES & TECHNOLOGY
УДК 622.234
Spirin V.I. (Tula scientific and research geological enterprise) // nigptula@mail.ru
Vlasyuk V.I. (Tula scientific and research geological enterprise) // nigptula@mail.ru
Budakov Yu.E. (Tula scientific and research geological enterprise) // nigptula@mail.ru
Solovyov N.V. (MGRI-RGGRU) // drill@msgpa.ru
CREATE AND APPLY HIGH-PERFORMANCE DIAMOND ROCK CUTTING TOOL
The article describes new technologies for operational improvement of diamond rock-cutting tool design of JSC «Tula NIGP». The introduction of new technologies has allowed to modernize the commercially available tools, as well as to improve the performance of new types of diamond rock-cutting tools. Wide production tests of the diamond rock-cutting tool of JSC «Tula NIGP» made on new technologies showed that it on efficiency considerably surpasses the tool of other domestic producers, and also the tool of the known foreign firms.
Keywords: drilling tool, technology, diamond drilling, diamond crown, efficiency, testing, drilling mode.
Р. 21-26
УДК (696.6+628.9 622.143) (075.8)
Olivetskiy I.N. (MGRI-RGGRU) // filimona2007@mail.ru
Bashkurov A.Yu. (MGRI-RGGRU) // Bashkurov_A@inbox.ru
DEVELOPMENT OF A DRILL PIPE COLUMN MODEL FOR THE STUDY OF TRANSIENTS IN THE DRILLING OF EXPLORATION WELLS
The proposed method of increasing the effectiveness of exploration works, at the expense of the developed mathematical model of the column of drill pipes. The aim of the work is to develop a model of drill pipe columns for the study of transients in drilling exploration wells.
Keywords: drill string model, transients.
Р. 26-29
MANAGEMENT & ECONOMICS
УДК 303.43:553.04+622.34(470)
Miletenko N.V. (Ministry of Naturals Resources and Environment) // miletenko@mnr.gov.ru
Danilov A.P. (Ministry of Naturals Resources and Environment) // dan@mnr.gov.ru
Sarycheva E.S. (Ministry of Naturals Resources and Environment) // ses@mnr.gov.ru
Alexandrov O.V. (CEFC Group) // aleksandrov@cefc.ru
Dobrolyubova E.I. (CEFC Group) // dobrolyubova@cefc.ru
PROGRAMMATIC FOUNDATIONS FOR IMPLEMENTING RUSSIAN FEDERATION STRATEGY FOR DEVELOPING MINERAL RESOURCES BASE TILL 2035
The article proposes new approaches to designing and implementing Russian Federation State Program "Reproduction and use of natural resources" based on the priorities of mineral resources development set in the Russian Federation Strategy for Developing Mineral Resources Base till 2035 and based on implementing project and process management methods. To illustrate the proposed approach the authors develop a structure and main elements of the key project "Oil" which is suggested for inclusion into the new version of the Russian Federation State Program «Reproduction and use of natural resources».
Keywords: strategy, program, project, mineral resources base, regional exploration works, hydrocarbons, oil, solid minerals.
Р. 29-35
УДК 553.5/6.985.003.12:33(470.41)
Sadykov R.K. (TFGI For Volga Federal District, TSNIIgeolnerud) // tfit@inbox.ru // root@geolnerud.net
COMMONLY USEFUL FOSSILS – ADDITIONAL INCENTIVE OF SOCIAL-ECONOMIC DEVELOPMENT OF TERRITORIES OF THE RUSSIAN FEDERATION
In connection with the complete cessation of the financing of exploration for common mineral resources from the federal budget and shifting their implementation to the funds of regional budgets, of which only 12 are self-subsidized and 73 subsidized in the future in the constituent entities of the Russian Federation information with the provision of mineral raw materials based on common minerals for the implementation of national projects in the field, regional "Strategies of socio-economic of development". In this regard, it seems advisable to develop a "Strategy for the development and use of the mineral resource base of common mineral resources" by each subject of the Russian Federation.
Keywords: common minerals, subject of the Russian Federation, strategy, mineral resources base, federal law, key guidelines.
Р. 35-41
BOWELS PROTECTION & ECOLOGY
УДК 502.7:621.039
Svyatovets S.V. (Gidrospetsgeologia) // ssv@msnr.ru
Merkulov I.A. (Gidrospetsgeologia) // atomlink@mcc.krasnoyarsk.su
Seelev I.N. (Gidrospetsgeologia) // atomlink@mcc.krasnoyarsk.su
Sabaev Yu.I. (Gidrospetsgeologia) // atomlink@mcc.krasnoyarsk.su
Shevchenko I.V. (GXK) // shiv@mcc.krasnoyarsk.su
THE SOLUTION TO INTEGRATED MONITORING FOR ENVIRONMENT AND SECURITY PLATFORMS OF PLACING OF OBJECTS OF USE OF ATOMIC ENERGY FSUE «GKHK»
Sequence of processes, effects and factors of natural origin which have various hazardous impacts on installations, and the environment requiring permanent monitoring has been investigated and defined at nuclear facilities site. The following factors are considered to be potentially harmful factors: geodynamic, seismic, geotechnic. Need of seismic, geodynamic, and geotechnic monitoring is specified by the Rostechnadzor's regulatory documents.
Keywords: production facilities, monitoring, impact of natural and industrial origin.
Р. 41-47
УДК: 662.341.012: 662.85
Golik V.I. (Geophysical Institute of VSC RAS, Vladikavkaz Scientific Center of RNO-Alania) // v.i.golik@mail.ru
Komazhchenko V.I. (Belgorod State National Research University (NIU BelGU)) // komashchenko@inbox.ru
Lyashenko V.I. (UkrNIPIpromtechnologii, Zheltye Vody, Ukraine) // vilyashenko2017@gmail.com
RATIONAL USE AND PROTECTION OF SURFACES IN COMBINED DEVELOPMENT OF ORE DEPOSITS
The main scientific and practical results of the rational use and protection of subsoil resources in the combined development of ore deposits, taking into account geomechanical stresses, are presented. The results of open and underground works are described taking into account the completeness of subsoil use under the influence of natural and man-made stresses. The main risk factors for combining technologies are identified and mitigation measures are identified by assessing the geomechanical condition, predicting its change during field development, and monitoring the development and management of deformation processes.
Keywords: ore deposits, development technologies, subsoil protection, efficiency.
Р. 47-53