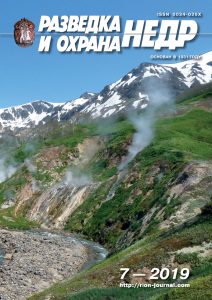 CONTENTS № 7/2019
GEOLOGY & METHODICS OF PROSPECT & EXPLORATION OF DEPOSITS
УДК 550.4:55
Silin I.I. (IMGRE) // igorivsil@yandex.ru
Kilipko V.A. (IMGRE) // kilipko@rambler.ru
Mezhelovskiy N.V. (Geokart) // centergeokart@mail.ru
Mezhelovskiy I.N. (Geokart) // minormin@mail.ru
FORECAST OF MINERAL RESOURCES ON THE BASIS OF NUMERICAL MODELS OF ANOMALOUS GEOCHEMICAL FIELDS OF THE CONTINENTAL CRUST
Theoretical justification and technology of forecasting of mineral resources with use of numerical rank model of the abnormal geochemical field of continental crust (AGHP) is described. The model is made for most widespread chemical elements (except petrogenic).
Keywords: numerical model, grade abnormal fields, abnormal contents of the element, forecast. Fibonacci's number.
Р. 3-10
УДК 662.346.3: (475.141)
Juraev M.N. (TashSTU) // j.mexroj@yandex.ru
Yakubov Zh.Ya. (TashSTU) // Yak.jan@yandex.ru
Khamdamov S.R. (Gissargeologe) // 1234.suh@mail.ru
MAIN GEOCHEMICAL FEATURES OF APOMETATERRIGENE TUNGSTEN MINERALIZATION (ON THE EXAMPLE OF THE SARYKUL DEPOSIT IN THE KARATYUBI ORE FIELD)
The article discusses the main geochemical features of apometaterrigenous tungsten mineralization, timed to the fragment of the trog structure, made by rocks of the olistostromic complex. The mineralization is formed by rough flysch rocks, transformed in the contact zone of a granitoid intrusive geochemically specialized in tungsten, into shale rocks, from which ore-bearing metasomatites are formed. The ore process has carbon dioxide specificity and is characterized by a significant addition of phosphorus. The geochemical field is formed by elements of the typomorphic complex (W – Bi – Cd – Te – Be – Au – Zn – Cu – Sn).
Keywords: Karatyube, ore region, ore fields, apometeratergen, tungsten mineralization, Sarykul, trog structure, olistostrom complex, ore-bearing metasomatites, typomorphic geochemical complex, scheelite, iron disulfides, scarnoids, ganitoids, petrogenic.
Р. 10-17
УДК 553.824 (575.3)
Litvinenko A.K. (MGRI-RGGRU) // akl1954@yandex.ru
Odinaev Sh.A. (MGRI-RGGRU) // sharif.geolog@mail.ru
Malakhov F.A. (Geological survey expedition on precious and ornamental stones) // malahov75@mail.ru
THE FIRST FIND OF SODALITE AND NEFELIN AT THE DEPOSIT OF JEWELRY SCAPOLITE MONTENEGRIN (CENTRAL PAMIR)
A previously unknown minerals sodalite and nepheline have been found on the deposit of the jewel scapolite Montenegrin. Their mineral composition and physical properties are investigated. The chemical composition is given. Among the rocks that contain the scapolite mineralization, new harpburgite have been established for the Kukurt complex. An original version of the geological plan of the jewel scapolite deposit is presented.
Keywords: Central Pamir, muzkol series, sarydzhilginskaya suite, kukurt complex, scapolite jewelry deposit Montenegrin, sodalite, nepheline, harzburgite.
Р. 17-22
GEOPHYSICS
УДК: 550.832.5
Minosyantz A.R. (Rusburmash) // Minosyantzar@rbm-armz.ru
Solodov I.N. (Atomredmedzoloto) // INSolodov@armz.ru
Gurulev E.A. (Khiagda) // Gurulev.E.A.@hiagda.ru
APPLICATION OF INSTANTANEOUS FISSION NEUTRON LOGGING AT DIFFERENT STAGES OF ISL URANIUM MINING
A description of a new modification of apparatus-and-method complex of instantaneous fission neutron logging (AMC KND-M in AINK-49 modification) which exceeds foreign analogues in a number of parameters is given. Examples of application of this nuclear-geophysical method for studying radiological and ore (C, m, mC) parameters on the B1 deposit of the Vershinnoye field at the stage of technological wells drilling and on the X3 and X5 deposits of the Khiagdinskoe field at the development stage are considered. At the stage of mining preparatory work, AINK-49 allows to clarify the parameters of uranium ores established at the exploration stage, and at the stage of ore deposits development it provides an opportunity to estimate the amount of residual and re-deposited uranium in the ore-bearing horizon.
Keywords: in situ leaching (ISL), well, gamma logging, geological testing, instantaneous fission neutrons logging, pulsed neutron-neutron logging.
Р. 22-30
УДК 622.7.017:550.837.6+550.37(571.53)
Kochukova V.A. (Rosgeologia, Irkutsk geophysical unit) // nikamop@mail.ru
INNOVATIVE APPROACHES TO THE INTERPRETATION OF ELECTROMAGNETIC SOUNDINGS IN THE GEOELECTRICAL CONDITIONS IN THE SOUTHERN SIBERIAN PLATFORM
The paper presents innovative methodological approaches to the interpretation of electromagnetic research data (the method of sensing the field in the near zone), allowing you to quickly obtain information on the study area, at all stages of interpretation. The conducted research has allowed to successfully integrated electromagnetic TEM data in the seismic processing package, which greatly simplifies the process of integration of geophysical data allows to get more accurate forecast results of prospective areas and increases of investment appeal of objects of subsurface use.
Keywords: electromagnetic research, sensing of the formation of the field in the near zone, transformation of the curve of formation of the field, Siberian platform, oil and gas prospective areas, conducting and high-resistance horizons.
Р. 30-34
HYDROGEOLOGY & GEOLOGICAL ENGINEERING
УДК 571.51
Domarenko V.A. (National Research Tomsk Polytechnic University)
Savichev O.G. (National Research Tomsk Polytechnic University)
Ulaeva S.S. (National Research Tomsk Polytechnic University)
GEOCHEMICAL BALANCE OF THE MINOR RIVER ILBOKICH DRAINAGE BASIN (ANGARA RIVER BASIN, MIDDLE SIBERIA)
A methodology for the compilation and analysis of the geochemical balance of a minor river is proposed. It was tested on the Ilbokich river in Middle Siberia. It is shown that the accumulation of chemical elements in water bodies, peat and soils is possible both in the presence and in the absence of rocks enriched by these elements. In particular, Fe and REE compounds can accumulate in the form of low soluble hydroxides and compounds with phosphorus in peat and swamp waters in the absence of rock outcrops with a high content of corresponding elements in the region of research.
Keywords: geochemical balance of drainage basin, minor river Ilbokich, Angara river basin, Middle Siberia.
Р. 35-42
TECHNIQUES & TECHNOLOGY
УДК 546.284+546.721:553.446.2+549.61
Anufrieva S.I. (VIMS) // anufrieva.05@mail.ru
Likhnikevich E.G. (VIMS) // likhnikeevich@mail.ru
Ermolov V.M. (I.P.Bardin Central Research Institute for Ferrous Metallurgy) // chermet@chermet.net
Tigunov L.P. (VIMS) // vims@vims-geo.ru
THE TECHNOLOGY OF PROCESSING REFRACTORY SILICATE ORES OF THE ELECTROTHERMAL METHOD WITH OBTAINING SILICOMANGANESE
The principal possibility of processing of difficult-to-enrich manganese silicate ores by pyrometallurgical technologies in order to obtain manganese ferroalloys, including non-standard and standard grades of silica manganese, has been studied.
Keywords: manganese ore, silicomanganese, pyrometallurgical technologies, electric smelting.
Р. 43-49
MANAGEMENT & ECONOMICS
УДК 005: [331,45+614,8]:553,04
Rudnev A.V. (Rosnedra) // arudnev@rosnedra.gov.ru
CLASSIFICATION OF THE RISKS OF ENTERPRISES OF THE MINERAL AND RAW MATERIAL COMPLEX
This article is devoted to the study of the risks faced by enterprises of the mineral complex. In the article, the author systematized the general criteria for the classification of risks at the enterprise, and also highlighted the shortcomings and advantages of the classifications of the risks of the mineral resource complex presented in the economic literature. The author proposed an improved risk classification by area of origin, which includes 12 types of risks. Some of them are related to enterprises of all branches of management, including MSC, and some are specific types that relate only to MSC enterprises. The proposed classification will allow to form a differentiated approach to the development of anti-risk strategy in the enterprise.
Keywords: risk, specific risk, mineral and raw material complex, raw material risk, reserves.
Р. 49-51
BOWELS PROTECTION & ECOLOGY
УДК 556.639; 556.38
Kuvaev A.A. (Hydrospecialgeology) // andrey_kuvaev@inbox.ru
Konnov D.V. (Hydrospecialgeology) // dvk2010@gmail.com
Svyatovets S.V. (Hydrospecialgeology) // ssv@msnr.ru
Speshilov S.L. (Hydrospecialgeology) // speshilov1959@gmail.com
Afanasev F.I. (Bashkir soda company) // Afanasev@soda.ru
Shayakhmetova L.R. (Bashkir soda company) // Shayakhmetova.LR@soda.ru
ASSESSMENT OF POSSIBILITY FOR DISPOSAL OF SODIC PRODUCTION LIQUID WASTES INTO DEEP PALEOZOIC AQUIFER SYSTEM IN PROXIMITY OF INDUSTRIAL AREA OF STERLITAMAK CITY
Numerical modeling approach for injection of sodic production liquid wastes into deep Paleozoic aquifer system in proximity of industrial area of Sterlitamak city is taken under consideration.
Keywords: hydrodynamic and solute transport modeling, density convection,,deep disposal of liquid wastes
Р. 52-62