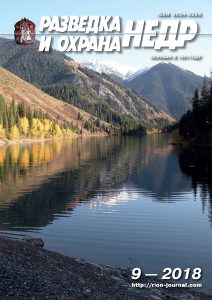 CONTENTS № 9/2018
GEOLOGY & METHODICS OF PROSPECT & EXPLORATION OF DEPOSITS
УДК 553.411
Aleksandrov V.V. (UGSE) // alvladislav@yandex.ru
Rylkov S.A. (Uralnedra) // ural@rosnedra.gov.ru
Kokorin N.P. (Uralnedra) // ural@rosnedra.gov.ru
Zubkov A.I. (UGSE) // ural@rosnedra.gov.ru
Krivko T.N. (UGSE) // ural@rosnedra.gov.ru
NEW GOLD ORE OBJECTS IN THE OLD MINING REGION OF THE MIDDLE URALS
The presented materials characterize the new gold ore objects discovered within the Dolgomysovsky gold ore complex that is part of the Vilyuiskaya area in the Middle Urals. The features of the geological structure of potential deposits are characterized by metasomatic transformations of ore-bearing rocks and the material composition of ore mineralization. The peculiarities of the methodical approach to the study of the Dolgomysovsky gold ore node, which led to the identification of new gold ore objects, are considered. Concluded that the metallogenic potential of known gold ore assemblages in the Urals is high and not fully revealed.
Keywords: ore-grade gold mineralization, inferred resources, new potential mineral deposit, plagio granite-porphyrites, metasomatites of quartz-sericitic formation, sulfides, tellurides, free gold, stages of ore grade mineralization, search criteria.
Р. 3-10
УДК 553.412:551.24.031
Tkachev A.V. (SGM RAS) // avtkachev@mail.ru
Rundkvist D.V. (SGM RAS) // dvr@sgm.ru
Vishnevskaya N.A. (SGM RAS) // 200962@mail.ru
EVOLUTIONAL ASPECTS OF THE LITHIUM METALLOGENY: PRODUCTIVE EPOCHS, MINERAL DEPOSIT TYPES AND THEIR SPECIFIC FEATURES
The generation of lithium resources has been taking place since the Mesoarchean and is expressed as a discontinuous series of impulses of variable intensities. Pegmatite type alone represents the lithium metallogeny in three oldest supercontinent cycles – Kenoran, Columbian, and Rodinian. The type is also the main one in the Pangean cycle, but a small part of its resources is concentrated in Li-F granites. Current Amasian cycle is the most various in terms of lithium deposit types: lithium-bearing brines in salars is the main type, while epithermal stratiform lodes, pegmatites, and Li-F granites are less significant.
Keywords: metallogeny, lithium deposits, geological history, supercontinent cycle.
Р. 10-18
УДК 550.84
Grigorov S.А. (IMGRE) // grigorov44@list.ru
THE STRUCTURES OF GEOCHEMICAL FIELDS, AS A TOOL FOR LOCALIZATION AND RANKING OF ORE OBJECTS AT THE STAGE OF MEDIUM-SCALE SEARCHES
The efficiency of prospecting for ore deposits can be cardinally increased by a structural-geochemical analysis of the initial data. The structure of the autonomous geochemical field of the halo-forming and ore-forming system is a self-sufficient tool for identifying and evaluating ore objects at the stage of medium-scale searches, without involving costly geological and geophysical studies.
Keywords: searches for ore deposits, geochemical field structure, concentric zoning, fractal structure, localization, ranking, ore sites, ore fields.
Р. 18-22
УДК 553.878(470.5):552.2
Lyashenko E.A. (Rosnedra) // Lyashenko.52@bk.ru
ABOUT TEXTURAL-GENETIC CLASSIFICATION OF JASPERS SOUTHERN URALS
The classifications of Jasper proposed by various researchers are considered. The analysis showed that they do not fully reflect the diversity of the Southern Urals Jasper. Based on textural structure of the author's taxonomy covering all the diversity of this amazing creation of nature.
Keywords: jasper, Southern Urals, classification, texture.
Р. 22-31
УДК 553.673.5.08:550.8(571.56)
Sabitov A.A. (TSNIIgeolnerud) // root@geolnerud.net
Galiachmetov R.G. (TSNIIgeolnerud) // root@geolnerud.net
Trofimova F.A. (TSNIIgeolnerud) // root@geolnerud.net
Ruselik E.S. (TSNIIgeolnerud) // root@geolnerud.net
Teterin A.N. (TSNIIgeolnerud) // root@geolnerud.net
Nikolaeva L.M. (Yakutskgeo) // nikolaewa_LM@mail.ru
SEPIOLITE CLAYS OF YAKUTIA – FROM FORECAST TO DEPOSIT
The article shows the results of first Russian sepiolite object – Meteger deposit's studding. The inferred reserves of sepiolite clays are approved on the object. The real composition, technology properties and the possibility of enrichment and modification substantiate the suitability of clays for preparation of salt-resistant drilling mud, cleaning of diesel and vegetable oils and the productions of heat-insulating materials. As a result a new geology-industrial type of sepiolite clays deposit is distinguished.
Keywords: Metegerskoe, occurrence, sepiolite, clay, drilling, mud, adsorbent, heat-insulating, deposit, Yakutia.
Р. 31-36
GEOPHYSICS
УДК: 550.8.052
Nitsenko P.A. (Kazgeology) // geo.kz@mail.ru
RE-INTERPRETATION OF GEOLOGICAL-GEOPHYSICAL DATA ARE THE BASIS OF EFFECTIVE SEARCH IN OLD MINING AREAS
Questions qualitative a feather of interpretation of geologic-geophysical materials with application of modern software and the principles of modeling for initiation of effective search works on the studied squares, for example within the operating mountain branches are considered. The example of use of reinterpretation and efficiency of search works on chrome ores on well-studied Southern-Kempirsaysky Ore Field is given.
Keywords: complex interpretation, anisotropic transformation, field components, low-anomaly zones, statistical analysis, frequency tomography, modeling, local ore-control structures, passed ore bodies, ore flanks, completion of ore-stocks.
Р. 36-40
HYDROGEOLOGY & GEOLOGICAL ENGINEERING
УДК 550.46
Belov K.V. (MGRI-RGGRU) // kostik-belowne@rambler.ru
Wyazkova O.E. (MGRI-RGGRU) // wjask@yandex.ru
Vasileva D.E. (MGRI-RGGRU) // dianavasileva2010@mail.ru
Cherkinskaya M.A. (MGRI-RGGRU) // fridalla@mail.ru
RESULTS OF THE EXPERIMENTAL STUDY OF HYDROGEOCHEMICAL PROCESSES OF MALACHITE FORMATION
The paper analyzes the published data and the results of laboratory researches ofstudying the process of malachite formation. Malachite and posnjakitewere experimentallyobtained. As a result of the work, it was concluded that the formation of malachite occurs when theacid sulfate waters of the upper part of the oxidized zone of copper-pyrite ores are mixed withhydrocarbonate-sodium groundwater which are intrinsic for the areas of continental salinity.
Keywords: malachite, oxidized zone of copper sulphide ores, underground waters of oxidizedzone, geochemical barriers.
Р. 40-44
TECHNIQUES & TECHNOLOGY
УДК 622.7:549.642.27
Kurkov A.V. (VIMS) // kurkov@vims-geo.ru
Anufrieva S.I. (VIMS) // anufrieva.05@mail.ru
Likhnikevich E.G. (VIMS) // likhnikeevich@mail.ru
Rogozhin A.A. (VIMS) // rogojin@df.ru
COMPLEX OF MODERN TECHNOLOGICAL SOLUTIONS FOR SPODUMEN ORE PROCESSING
Russia is one of the nations holding the world's biggest lithium ore reserves. However, there has been no lithium mining activity in Russia during the last two decades despite the fact that lithium is gaining key importance in the global economy. This paper reviews the existing process research and innovative projects and aims to shortlist the most effective lithium concentration processes for ores of the most promising domestic spodumen deposits.
Keywords: lithium ore, spodumen, enrichment, concentrate, hydrometallurgical processes, lithium carbonate.
Р. 44-52
УДК 549.08+66.02:661.871
Likhnikevich E.G. (VIMS) // likhnikeevich@mail.ru
Ozhogina E.G. (VIMS) // vims-ozhogina@mail.ru
Yakushina O.A. (VIMS) // yak_oa@mail.ru
Fatov A.S. (VIMS) // infiniti400@mail.ru
MINERAL COMPOSITION INFLUENCE ON THE PRODUCTS PARAMETERS AT CARBONATE MN-BEARING ORES PROCESSING BY CALCIUM-CHLORIDE LEACHING
The Mn-bearing domestic ores as a source for manganese raw materials are characterized by low quality, presence of relatively high content of sulfur and phosphorus resulting in manufacturing complexity of high quality manganese concentrates production, which requires the development of modern innovative processing technologies for their processing. A complex of mineralogical and analytical methods has been used to study mineral and chemical compositions of the carbonate Mn-bearing ores of the Tyniinskoye, Porozhinskoe and Usinskoe deposits. Laboratory research has been carried out on testing the use of an autoclave calcium-chloride leaching for manganese extraction from these ores that confirmed the working capacity of the proposed technology.
Keywords: carbonate Mn-bearing ores, chemical composition, mineral composition, morphostructural characteristics, ore quality, processing, calcium-chloride method, autoclave leaching.
Р. 52-57
УДК 553.9: 574 + 669/85/86
Lugovskaya I.G. (VIMS) // lig_vims@mail.ru
Sokolova V.N. (VIMS) // viktoriya-vims@mail.ru
Anufrieva S.I. (VIMS) // anufrieva.05@mail.ru
Casanov O.V. (VIMS) // kazanov@vims-geo.ru
SHUNGITE BREED IS A PERSPECTIVE MATERIAL FOR THE CREATION OF «GREEN» TECHNOLOGIES
In this article, the concept of green technologies is defined. The possibilities of using shungite of Karelia as sorption materials, fillers in creating green technologies are considered. New approaches are proposed for the development of the mineral resource base of shungite, including the integrated use of extracted raw materials.
Keywords: green technologies, environment, shungite, sorbents, fillers, complex processing of raw materials.
Р. 57-61
MANAGEMENT & ECONOMICS
УДК 504.06
Samsonov N.Yu. (Institute of Economics and organization of industrial production) // samsonov@ieie.nsc.ru
Kryukov Ya.V. (Institute of Economics and organization of industrial production) // zif_78@mail.ru
Yatsenko V.A. (Institute of Economics and organization of industrial production) // yva@ieie.nsc.ru
Tolstov A.V. (IGM SB RAS) // tols61@mail.ru
RARE-EARTH RAW MATERIAL OF TOMTOR: IS THERE A COMPROMISE BETWEEN ECOLOGY AND SOCIO-ECONOMIC EFFECTS?
The main aspects influencing the ecological system of the Arctic region of the Republic of Sakha (Yakutia) with the forthcoming development of the rare metals and rare earth Tomtor deposit are formulated. Methods of solving problems taken into account when mastering a unique object are proposed, and the resulting socio–economic effects are calculated.
Keywords: ecology, ecosystem, Tomtor, Arctic region, rare metals, rare earth, social and economic effects.
Р. 61-67
BOWELS PROTECTION & ECOLOGY
УДК 502.3
Dikamov D.V. (Gazprom dobycha Urengoy) // d.v.dikamov@gd-urengoy.gazprom.ru
Leshan D.G. (Gazprom dobycha Urengoy) // d.g.leshan@gd-urengoy.gazprom.ru
Larev P.N. (Gazprom dobycha Urengoy) // p.n.larev@gd-urengoy.gazprom.ru
ENVIRONMENTAL MONITORING OF LICENSE AREAS «GAZPROM DOBYCHA URENGOY» LLC
The article presents information on one of the elements of environmental protection, i.e. local environmental monitoring. It is an integrated system of regular monitoring and assessment of changes in the state of environmental components under the influence of natural and anthropogenic factors, which allows us to make effective management decisions in the field of environmental protection. The information presented describes the main directions of monitoring of environmental components, the results of measurements, instruments necessary for research.
Keywords: environmental protection, environmental monitoring, programs of local environmental monitoring of license areas.
Р. 67-70