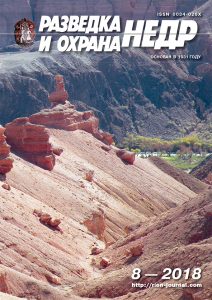 CONTENTS № 8/2018
GEOLOGY & METHODICS OF PROSPECT & EXPLORATION OF DEPOSITS
УДК 553.411
Kaygorodova E.N. (IGEM RAN) // katmsu@mail.ru
Petrov V.A. (IGEM RAN) // vlad243@igem.ru
GOLD ORE DEPOSIT RADUZHNOE (KABARDINO-BALKARIAN REPUBLIC)
The structure of the ore field of the Raduzhnoe deposit is a set of closely located ore zones, connected by the unity of their geological structure and by common origin within the boundaries of the general area of ore-localization. The Raduzhnoe deposit presents a hydrothermal object in subvolcanic structure and represents an ore-magmatic unit consisting of a series of ore bodies and subvolcanic bodies of medium-acid composition. Vein-like, stock-shaped and nest-shaped ore bodies with disseminated sulphide ores are developed in polygenic breccias, lenticular bodies of massive, densely disseminated sulphide ores and various of veins. The composition of the ores: pyrite, chalcopyrite, sphalerite, galena. Native gold is thin and low grade. It is presented in free form and in a finely dispersed form in sulfides.
Keywords: gold ore deposit, North Caucasus, geology, ore.
Р. 3-9
УДК 553.22 (553.062/.067)
Svetlitskaya T.V. (V.S. Sobolev Institute of Geology and Mineralogy SB RAS) // svt@igm.nsc.ru
Fominykh P.A. (V.S. Sobolev Institute of Geology and Mineralogy SB RAS) // fominykhpa@igm.nsc.ru
COBALT-NICKEL ARSENIDE–SULFOARSENIDE MINERALIZATION OF THE SEDOVA ZAIMKA INTRUSION (KOLYVAN-TOMSK FOLDED ZONE)
Data on the associations, chemical composition, and conditions for the formation of the Ni-Co arsenide-sulfoarsenide mineralization, discovered for the first time within the Sedova Zaimka Cu-Ni mineralization, are provided. Nickeline, maucherite and sulfoarsenides of the cobaltite–gersdorffite series are non-magmatic in origin and were formed as a result of metasomatic replacement of minerals of both the Cu-Ni sulfide association and the earlier arsenide-sulfoarsenide stages.
Keywords: nickeline, maucherite, gersdorffite, cobaltite, metasomatic replacement, sulfide Cu-Ni ores, Sedova Zaimka intrusion.
Р. 9-18
УДК 577.4 (553.5)
Gulynin A.V. (VIMS) // lab@u238.ru
Petrochenkov D.A. (MGRI-RGGRU) // p-d-a@mail.ru
RADIATION CHARACTERISTICS OF JEWELERY-ORNAMENTAL AMMONITE
Ammonites and accompanying types of jewelry and ornamental raw materials (septaria, fossilized concretions, spectropyrite, sengilit, fossilized wood, fossils of marine reptiles) are widely used in jewelry, interior products, as a facing material. A detailed estimation of their radiation characteristics was carried out for the first time. In the ammonites of the apatite-calcite composition of a number of objects, the values of the isotope 226Ra and Aeff are 3-4 times higher than typical indices. Electron microscopic studies in ammonites have established uranium oxide, monazite, with which high radionuclide contents can be associated. Carried out researches did not establish the excess of the standardized radiation indices, which makes it possible to use the considered materials without restrictions.
Keywords: ecological assessment, radiation characteristics, ammonites, jewelry and ornamental materials.
Р. 18-21
УДК 550.8.053
Zavarzina G.A. (Gazpromneft STC) // Zavarzina.GA@gazpromneft-ntc.ru
Shapabaeva D.S. (Gazpromneft STC) // Shapabaeva.DS@gazpromneft-ntc.ru
Kosmynin V.A. (Gazpromneft STC) // Kosmynin.VA@gazpromneft-ntc.ru
Zaharova O.A. (Gazpromneft STC) // Zaharova.OA@gazpromneft-ntc.ru
PETROLEUM SYSTEMS MODELING AS A TOOL FOR COMPREHENSIVE ASSESSMENT OF HYDROCARBON POTENTIAL AND GEOLOGICAL RISKS, AS EXEMPLIFIED BY THE ARCTIC OFFSHORE PROJECTS
Prospecting and exploratory offshore drilling in the Arctic Ocean entails heavy investment and considerable procurement costs. Of critical importance in this regard is a problem of reducing exploration costs by focusing efforts on studying the most viable prospects. In order to rank promising oil and gas zones, assess resources and geological risks, LLC Gazpromneft STC uses numerical modeling of petroleum systems. In this article, we look at offshore projects to show how modeling helps solve multi-level geological problems depending on the knowledge gained about certain areas as well as the amount and quality of input data.
Keywords: shelf, Barents Sea, Pechora Sea, East Siberian Sea, petroleum system modeling, oil and gas, hydrocarbon trap.
Р. 21-28
HYDROGEOLOGY & GEOLOGICAL ENGINEERING
УДК 553.682.2
Shcherbakova Т.А. (TSNIIgeolnerud) // root@geolnerud.net
Bakhtin A.I. (KFU)
Shevelev A.I. (TSNIIgeolnerud) // root@geolnerud.net
HYDROCHEMICAL PROCESS OF HYDROMAGNESITE FORMATION IN WEATHERING CRUSTS OF SERPENTINITES AND CENOZOIC SEDIMENTARY COMPLEXES
The calculation of Gibbs energy for the reaction of hydrolysis of serpentinite based on the thermodynamic activity of constituent components with the formation of hydromagnesite both in the zone of hypergenesis of serpentinites and in adjacent modern lakes is carried out. The obtained calculations are confirmed by analytical studies.
Keywords: serpentinite, hydromagnesite, hydrolysis, weathering crust, Gibbs energy, thermodynamic activity, concentration.
Р. 28-31
TECHNIQUES & TECHNOLOGY
УДК 552.068.57:622.7
Levchenko E.N. (IMGRE) // levchenko@imgre.ru
Galkin M.V. (S.B.K. PRO) // tmngok@gsbk.ru
Matvienko S.Yu. (IMGRE, S.B.K. PRO) // tmngok@gsbk.ru
DEPTH OF PROCESSING AND COMPREHENSIVE UTILIZATION OF MINERAL RAW MATERIALS – AS A WAY TO INCREASE THE EFFICIENCY OF THE DEVELOPMENT OF RARE-METAL-TITANIUM DEPOSITS
The ways of increase of investment attractiveness of placer rare-metal-titanium deposits with low quality of ore Sands are considered. On the example of Glassy Deposit the possibilities of mineral ore concentrates processing with obtaining highly liquid end products are considered.
Keywords: rare-metal-titanium placers, mineralogical studies, metallurgical testing, ferro alloys.
Р. 31-37
УДК 339.562.4
Zhdaneev O.V. (Schlumberger) // ozhdaneev@slb.com
NEW APPROACH TO HIGH TECHNOLOGY PRODUCT ENGINEERING AND MANUFACTURING BY MEANS OF LOCALIZATION
The import-replacement opportunities for the Russian oil and gas industry are reviewed in the paper using the successful examples of software development, novel products engineering and manufacturing for reservoir exploration and production, and solutions for offshore projects by Schlumberger. It is highlighted that to become an integral part of the international industrial cooperation the products developed as a part of import-replacement activities shall be competitive on international arena. Success of the import-replacement program depends on substantial increase in labor productivity, expansion of the R&D work in the country, implementation of Industry 4.0 elements to reduce product cost and improve quality.
Keywords: oil and gas manufacturing, software development, import-replacement, localization, digital rock, DNV
Р. 37-44
УДК 622.341.1
Tretyak A.A. (Platov South-Russian State Polytechnical University (NPI) // 13050465@mail.ru
Litkevich Yu.F. (Platov South-Russian State Polytechnical University (NPI) // 13050465@mail.ru
Grossu A.N. (Platov South-Russian State Polytechnical University (NPI) // 13050465@mail.ru
THE TECHNOLOGY OF DOWNHOLE MINING OF IRON ORE WITH THE USE OF GEYSER PUMPS FOR PULP LIFTING
The article shows that the use of the Geiser pump instead of the air-lift unit as part of the hydraulic unit GDA-600, operating with the NBT-600 medium-capacity drilling pump, allows to reduce drive power and energy consumption for lifting the pulp from 40 to 15 kW, but this cannot significantly affect the effectiveness of the GDA-600 as a whole. The layout of the GDS with the drilling pump UNB-1250 with a feed Qp = 51 l / s and two pumps of the Geiser with dimensions allowing them to fit into the GDA-1250 structure is considered. At the same time, the productivity of the hydraulic unit increases from 41,5 tons (when equipped with a pump NBT-600) to 58 tons of ore per hour, i.е. more than 1,4 times.
Keywords: hydromining plant, drilling pump, air-lift unit, pump Geyser, downhole conditions, hydrostatic pressure, productivity of GDA, recoverability of ore.
Р. 44-48
MANAGEMENT & ECONOMICS
УДК: 553.041 (470.22)
Shchiptsov V.V. (IG KarRC RAS) // shchipts@krc.karelia.ru
INDUSTRIAL MINERALS OF THE ARCTIC REGIONS OF THE REPUBLIC OF KARELIA
The mining history of three areas in North Karelia, located in Russia's Arctic Zone, is described, its industrial mineral potential is evaluated and the use of industrial minerals in 21-st- century technologies is illustrated. Major deposits and large occurrences of kyanite, garnet, finely-squamose muscovite, nonconventional feldspar (nepheline syenite, anorthosite, quartz porphyry), quartz, ilmenite, apatite diatomite occurrences are discussed.
Keywords: Arctic Zone, industrial minerals, deposits, accessibility of mineral deposit.
Р. 48-53
УДК: 382.5:553.3
Khatkov V.Yu. (Gazprom, Moscow; National Research Tomsk Polytechnic University)
THE DYNAMICS OF CHANGES IN MARKETS ON IMPORT OF MINERAL PRODUCTS IN RUSSIA
The changes in the value of the sum of commodity flows of all mineral products in Russia (production, consumption, import and export), including import-dependent commodity products are considered. For import-dependent types of mineral products in the amount of all mineral products is 1,3-2,5 % of the value of their realization [consumption + export] and 2,3-4,0 % of the national consumption. The share of imports of many commodity mineral products remains high: manganese, titanium, chromium, tin and tungsten raw materials, ferroniobium and hydrofluoric spar.
Keywords: mineral products, import-dependence, import-independence.
Р. 53-59
BOWELS PROTECTION & ECOLOGY
УДК 553.048
Farkhutdinov A.M. (Bashkir State University) // anvarfarh@mail.ru
Galimov A.A. (Bashkir State University) // kaegkeg@mail.ru
Nizamova L.R. (Bashkir State University) // lyaisan_21@mail.ru
TO THE ISSUE OF GEOTНERMAL ENERGY DEVELOPMENT (ON THE EXAMPLE OF THE CHECHEN REPUBLIC)
The article considers development of geothermal energy in the Russian Federation. The main advantages of using this type of renewable energy sources in comparison with traditional hydrocarbon are given. A successful project of the Khankala geothermal station construction with full reinjection of the used fluid is discussed. Recommendations are given for the further development of geothermal energy, as well as estimation of possible reduction of harmful substances emissions into the atmosphere in case of geothermal waters deposits of the Chechen Republic commissioning.
Keywords: renewable energy sources, geothermal waters, geothermal station, doublet.
Р. 59-62