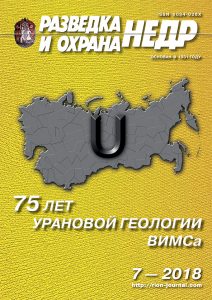 CONTENTS № 7/2018
УДК 553.495(061.75)
Mashkovtsev G.A. (VIMS) // vims@df.ru
Miguta A.K. (VIMS) // vims@df.ru
Shchetochkin V.N. (VIMS) // vims@df.ru
GEOLOGY OF URANIUM IN VIMS – IS THE GLORY WAY IN THREE CENTURIES OF THE CENTURY
The long-term activity of the of VIMS research group in the field of uranium geology is considered – from 1943, when the Sector No. 6 was established at the height of the war, to the present. The authors show the great work of creation of the powerful uranium mineral resource base of the Soviet Union and Russia, carried out by geologists and other specialists of VIMS – the country's main research institute on the uranium geology, as well as their participation in the discovery and study of the largest uranium ore areas, the development of uranium ore formation issues, methods of forecasting, search and evaluation of uranium deposits. The important role of the interdepartmental Coordination Scientific and Technical Council on Uranium Geology (CNTS), the dissertational Scientific Council, and the VIMS publishing activity on the uranium topics is highlighted.
Keywords: uranium, VIMS, mineral and raw materials base, uranium ore areas, uranium ore formation, history and phasing of research, complexity of works, Coordination Council.
Р. 3-22
УДК 553.495:553.078+551.72(571.1/.5)
Grebenkin N.A. (VIMS) // grebenkin2@mail.ru
Melnikov S.I. (VIMS) // melnikov@vims-geo.ru
URANIUM-BEARING CAPACITY ND METALLOGENY OF THE LATE PRECAMBRIAN SOUTH-SIBERIAN MEGAZONE
Analysis of the metallogeny of the uranium-prospective Late Precambrian South-Siberian mega-zone showed that the Riphean hydrothermal U, Pb, Zn, Cu, Mn, Co, Ni and Fe deposits were formed almost simultaneously with repeated basic magmatism. Uranium objects were formed within the granite-gneiss uplifts and their frames composed of the rocks geochemically specialized on uranium. In turn, deposits of Pb, Zn, Cu, Mn, Co, Ni, and Fe were formed in the Riphean depressive structures laid on a metamorphic base.
Keywords: uranium, metallogeny, South Siberian megason, late Precambrian.
Р. 22-30
УДК 553.493.45(571.54)
Tomashev A.V. (VIMS) // a.tomashev@mail.ru
Ledeneva N.V. (VIMS) // naled@rambler.ru
Rudakov R.E. (VIMS) // rerudakov@gmail.com
Zaytcev S.U. (Sosnovgeo) // zaytcev-sosnovgeo@mail.ru
Kosenko V.V. (Sosnovgeo) // kosoff2504@mail.ru
ORE-OCCURRENCE OF BERYLLIUM SNEZHNOYE (EASTERN SAYAN). GEOLOGICAL STRUCTURE, HISTORY OF FORMATION, TYPES AND COMPOSITION OF BERYLLIUM ORES
The authors noted that beryllium ore occurrences are formed during unified fluid-hydrothermal stage in conditions of open cavities. Geochemical characteristics of ore zones indirectly indicate the correlation of ore-forming processes with subalkaline granites or leucogranites. Drilling found that the most productive are the near-surface parts of ore zones. Drilling did not detect probable large granite massif. Small outcrops and dyke-like lense-like granite bodies related to ognitski complex are obviously depleted palingenic-anatectoid formations, unlike to virgin granite complex with ore specialization.
Keywords: Eastern Sayan, beryllium ores, migmatites, ore occurrence Snezhnoye, granite complex ognitski.
Р. 30-38
УДК 552.1+550.83:553.495(571.1/.5)
Rzhevskaya A.K. (VIMS) // anna.k.rehevskaya@gmail.com
Grebenkin N.A. (VIMS) // grebenkin2@mail.ru
ESTIMATION OF PETROPHYSICAL PROPERTIES OF ROCKS AND ORE OF STOLBOVOE URANIUM DEPOSIT (EASTERN PRISAYANIE)
Petrophysical investigations conducted at the Stolbovoe uranium deposit showed the possibility of solving a number of geological problems that contribute to determining its structural position, the features of the manifestation of metasomatic changes and the distribution of uranium mineralization. The article deal with the possibilities of petrophysical studies for determining the physical properties of rocks and regularities of their distribution in a section, the development of criteria for selecting the optimal geophysical complex, and the interpretation of the data obtained. The results of measurements served as the basis for reconstruction of the structural model of the section, which allowed to order fragments of dikes and fragments of the ore zone into unified structures.
Keywords: petrophysical studies, physical properties of rocks, complex of geophysical studies, structural model, Stolbovoe deposit.
Р. 38-44
УДК 553.495
Saltykov A.S. (VIMS) // asalt52@mail.ru
Kutueva O.V. (VIMS) // ovkutueva@yandex.ru
Avdonin G.I. (VIMS) // gosha1956@mail.ru
GEOTECHNOLOGICAL FIELD EXPERIMENTS CONDUCTED DURING THE EVALUATION STAGE
The method of researching the geotechnology properties of aquiferous ore-bearing strata based on two-well experimental cell operation was first proposed by V.A. Grabovnikov over 40 years ago and has been used in the industry ever since. Over that time extensive research and testing work by the All-Russian Mineral Resources Science and Research Institute (VIMS) enabled the development of that method into the «Optimal geotechnological testing scheme» used during the evaluation stage of geological prospecting. Not all deposits hosted in water-saturated filter beds are definitively eligible for ISR mining. Out of the total of 36 field experiments staged so far, 11 field experiments yielded negative conclusions. It is worth noting that in case pilot ISR units operation was preceded by such geotechnological field experiments which yielded positive conclusions for the subsequent pilot-scale ISR operations. All those pilot-scale units also provided full ground for positive estimates necessary for the further industry-scale development of the deposits. In case pregnant solutions with uranium concentrations exceeding 10 mg/l are obtained during the field experiment, taking several pregnant solution samples (V = 50 – 100 l each) for staging subsequent laboratory uranium recovery research is recommended.
Keywords: uranium deposit, in-situ leaching, field tests, geotechnological testing.
Р. 44-51
УДК 622.349.5(470)
Solodov I.N. (Atomredmetzoloto) // INSolodov@armz.ru
Polonyankina S.V. (Atomredmetzoloto) // SVPolonyankina@armz.ru
Vorobyova L.Yu. (Atomredmetzoloto) // LaYVorobyeva@armz.ru
Noskov M.D. (STI NRNU MEPhI) // md_noskov@mail.ru и nmd@ssti.ru
Ivanov A.G. (Khiagda) // Ivanov.A.G@hiagda.ru
ELIMINATION OF URANIUM LOSSES AND DILUTION DURING BOREHOLE UNDERGROUND LEACHING
In the published literature issues related to uranium losses and dilution during ISL are almost not covered, and the methods for their detection are poorly described. The purpose of this publication is to consider the avoidable and unavoidable losses and dilution. It is shown that the unavoidable losses in case of proper organization of pregnant solutions extraction do not exceed normative losses, and the avoidable excessive losses can be excluded by geotechnological modeling method. Dilution of uranium in pregnant solutions is minimized by using specially developed CAD system and eliminated by implementation of new construction of production wells.
Keywords: uranium, uranium deposits, in-situ leaching (ISL), normative and excessive losses, production wells, dilution of uranium in pregnant solutions.
Р. 52-58
УДК 502.3/.7: 551.521
Bakhur A.E. (VIMS) // bae@u238.ru
INTERPRETING TECHNOGENIC AND NONTECHNOGENIC RADIOACTIVE ANOMALIES IN ENVIRONMENTAL OBJECTS
The article provides examples of using radioisotopic data in order to interpret radioactive anomalies in environmental objects (soils, water, etc.). The radionuclide composition and ratios of isotopes of U, Th, Ra, Pu, Am, Sr, Cs and other elements allow to recognize possible sources of an anomaly (technogenic or nontechnogenic) and assess the radiation safety.
Keywords: environmental objects, radioactive anomalies, radionuclide composition, radioisotopic ratios.
Р. 58-62
УДК 55(09):553.495(470.5)
Halezov A.B. (VIMS) // vims@df.ru
THE ROLE OF THE ALL-RUSSIAN INSTITUTE OF MINERAL RESOURCES (FSBI «VIMS») IN THE DEVELOPMENT OF THE URANIUM MINERAL RESOURCE BASE IN THE URAL REGION
Development history of the Trans-Ural uranium ore province is shown, where a number of «basal» type uranium deposits and a large number of ore occurrences were opened. These discoveries became be possible due to close research-production cooperation of the Zelenogorskgeologiya and VIMS. They have made a significant contribution to understanding the formation conditions of exogenic uranium deposits and prospecting methods.
Keywords: VIMS, E.M. Shmariovich, Trans-Ural, exogenic uranium deposits.
Р. 62-65