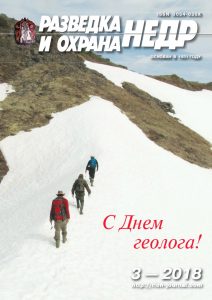 CONTENTS № 3/2018
GEOLOGY & METHODICS OF PROSPECT & EXPLORATION OF DEPOSITS
УДК 553.045
Mashkovtsev G.A. (VIMS) // vims@df.ru
Kozlovskiy D.S. (VIMS) // kozlovskiy@vims-geo.ru
Nikitina E.S. (VIMS) // nikitina@vims-geo.ru
Khizhnyakov Yu.A. (VIMS) // khizhnyakov@vims-geo.ru
THE ORE POTENTIAL OF THE FAR EAST
The article presents data on mineral resources base of ore minerals, diamonds and coal of the far Eastern region, the main attention is paid to the gold potential of Magadan region, Chukotka Autonomous district and Republic of Sakha (Yakutia). Given the quantitative parameters of the production of ores and concentrates currently and on prospect up to 2030, based on the materials of state accounting and legal solutions for the development objects [3, 4]. Due to the significant depletion of the ore potential of the region, primarily precious metals and diamonds; given the conclusion about the necessity of active development in the region search and regional forecasting and mineragenic work.
Keywords: Far Eastern region, Magadan region, Chukotka Autonomous district, Republic of Sakha (Yakutia), mineral resources base, mineral raw materials, mining, production of mineral raw materials, reproduction, gold, silver, copper, tungsten, tin, rare metals, iron, diamonds, coal.
Р. 3-11
УДК: 552.11:552.4:553.411(571.56)
Kozlov D.S. (VSEGEI) // Dmitriy_Kozlov@vsegei.ru
Artemev D.S. (VSEGEI) // Dmitry_Artemiev@vsegei.ru
Molchanov A.V. (VSEGEI) // anatoly_molchanov@vsegei.ru
Terekhov A.V. (VSEGEI) // artem_terekhov@vsegei.ru
Ashikhmin D.S. (VSEGEI) // Dmitry_Ashihmin@vsegei.ru
Kukushkin K.A. (VSEGEI) // konstantin_kukushkin@vsegei.ru
Shatova N.V. (VSEGEI) // Nadezhda_Shatova@vsegei.ru
GEOLOGICAL STRUCTURE AND ORE PROCESSES OF THE LOMAMSKY POTENTIAL ORE-GOLD DISTRICT
Lomamsky ore district is located within Timpton-Uchur block of Aldano-Stanovoy shield and characterized by intense manifestation in step Mesozoic tectonic-magmatic activation of alkaline and subalkaline magmatism and related alteration processes of different formation type. Mineralization is localized in different lithologic and structural environments, such as subhorizontal zone of increased permeability in clastic-carbonate strata in the platform cover and Jurassic clastic strata, on exocontact of intrusions of Mesozoic age; in steeply dipping faults, maped to deeply metamorphosed rocks of Achean age, as well as in large Mesozoic intrusions.
Keywords: Aldan Shield, Yakutia, magmatism, metasomatite, gold, beresites, gumbaites, argillizated rocks.
Р. 11-19
УДК 553.611.6.04.078.2: 551.24: 622.361.16 (477.75)
Sabitov A.A. (TSNIIgeolnerud) // root@geolnerud.net
Belyaev E.V. (TSNIIgeolnerud) // bel@geolnerud.net
Dudkin V.I. (CrimGeologia) // volodya1946@mail.com
MINERAL RAW BASE OF BENTONITES OF THE CRIMEA REPUBLIC
The mineral raw base of bentonites of Crimea republic is explored. Interdependence between the placement of the bentonite deposites and manifestations and such aspects as tectonical structure, formation and mineragenic groups is given. The geo-indasrtial classification of bentonite objects is done. The basic ways of exploration and exploitation of mineral raw base of bentonites is recommended.
Keywords: Bentonite, bentonite-like clays, deposityes, manifestations, interdependence, structure, formation, minerageny, type, geo-industrial, recommendation, Crimea republic, Russia.
Р. 19-26
УДК 553.64.041¢06.12.004:546.791:631.85:622.277.3:577.4:(470.47)
Karpova M.I. (TSNIIgeolnerud) // root@geolnerud.net
Nikolaeva M.V. (TSNIIgeolnerud) // root@geolnerud.net
DEPOSITS OF DETRITUS-BONE GEOLOGICAL-INDUSTRIAL PHOSPHORITES: THE ENVIRONMENT OF FORMATION AND THE POSSIBILITY OF DEVELOPMENT
The situation of accumulation of deposits and manifestations of detritus-type phosphorites in the maikop deposits of the Caspian and North-Caucasian phosphorite-bearing basins is considered. Ores belong to the complex phosphate-rare earth-uranium type, easily enriched for obtaining nitrogen-phosphorus fertilizers, extracted when obtaining the whole product – uranium concentrate. Economically profitable and economically safe is their production by well drilling.
Keywords: phosphorites, deposit, formation, development, geological-industrial type, uranium, fertilizer, nitrogen-phosphorus, hydrodevelopment, maikop, paleogene, neogene, Kalmykia.
Р. 26-30
GEOPHYSICS
УДК 550.849
Voroshilov N.A. (Geologorazvedka) // voroshilovnik@yandex.ru
Alekseev S.G. (Geologorazvedka) // sga49@mail.ru
Shtokalenko M.B. (Geologorazvedka) // mihkelshtokalenko@rambler.ru
EXPERIENCE OF THE USE OF GEOELECTRIC CHEMICAL METHODS FOR SEARCHING ORE DEPOSITS
Geoelectrochemical methods of prospecting for ore deposits considered. The methods are applied to detect superimposed dispersion haloes of ore elements in different landscape conditions. The methods can be used most effectivelly in prospecting for deep-seated deposits in covered areas in integration with the geophysical investigations.
Keywords: geoelectrochemical methods, superimposed haloes, covered territory, deep-seated deposits.
Р. 30-36
HYDROGEOLOGY & GEOLOGICAL ENGINEERING
УДК 556.32+551.311.231
Novikov V.P. (TFGI across the Ural Federal District) // zhukyelena@mail.ru
Kopylov D.V. (Uralnedra) // ddddmiitry@yandex.ru
THE SPECIFIED HYDROGEOLOGICAL MODEL OF OBJECTS OF THE URAL FOLDED REGION
The basic understanding of the hydrogeological conditions of Ural Folded Realm (UFR) has been formulated in «Hydrogeology of USSR. Vol. XIV (Ural)», 1972 [5]. In the following 45-year-long period absolutely new ideas about hydrogeological conditions of UFR didn't emerge. Based on the analysis of research results of past years and newly performed works the updated natural hydrogeological model of the objects of study within the UFR is offered, it helps to avoid rough mistakes in counting the operational reserves of fresh groundwater, in the predictions of flooding of solid minerals deposits as well as in the assessments of groundwater contamination from exploitation by the UL in a modern period of declining reliability of control observations and saving expenses for studying the hydrogeological conditions of researching topic.
Keywords: Ural folded realm, hydrogeological conditions, underground runoff, jointing, weathering crust.
Р. 36-41
TECHNIQUES & TECHNOLOGY
УДК 622.243(4/9)
Mendebaev T.N. (Scientific and Innovation Center «ALMAS») // nvc_almas@mail.ru
Izakov B.K. (Center Geolocation) // zaocgs@mail.ru
Kalambaeva A.S. (Scientific and Innovation Center «ALMAS»)// nvc_almas@mail.ru
RESOURCE-SAVING WELL DRILLING TECHNOLOGY BY HEAVY LAYING WITH HYDRAULIC DISTRIBUTOR AND THIN-WALL DIAMOND CROWNS
The trend of prospecting and exploration of deposits useful on deep horizons of the earth's interior imposes higher demands on the quality and cost of geological exploration. The design of a bottom-hole configuration with a hydraulic distributor and thin-walled diamond crowns is proposed for drilling wells with a reduction in resource costs, providing an increase in the representativeness and informativeness of the core.
Keywords: geology, fossils, deposits, exploration, well, facilities, core, liquid, diamond core.
Р. 41-43
MANAGEMENT & ECONOMICS
УДК 553.48:622.348.1
Chernova A.D. (VIMS) // chernova@vims-geo.ru
Egorova I.V. (VIMS) // egorova@vims-geo.ru
NICKEL CONSUMING AND PRODUCING COUNTRIES POLICY AND ITS EFFECT ON ITS PRODUCTION STRUCTURE
In response to mushroom growth of Chinese metallurgical sector from the beginning of the 21th century there was a rotation in main nickel consumption regions that changed the main sources of nickel raw materials. This article discusses main geological types of nickel deposits and their role in world mine production for the 15 years period, and effect on world nickel mine production from the strategy changes of consuming and producing countries.
Keywords: nickel, raw materials, laterite nickel ore, sulphide nickel ore, mine production, China.
Р. 44-49
УДК 553.411:622.11
Nesis V.N. (Polymetal of UK) // VNesis@polymetal.ru
ECONOMICALLY JUSTIFIED GOAL-SETTING AND OPERATIONAL ANALYSIS OF THE PROSPECTING AND APPRAISAL WORK EFFECTIVENESS (ON THE EXAMPLE OF JSC «POLYMETAL OF UK»)
The characteristic of JSC «Polymetal of UK» resource base condition are made, the volume data of complete geological exploration period covering 2012-2016 years and the appropriations for their implementation are given. The dynamics of Mineral Resources and ore reserves growth of the Company is shown. The reasons constraining increase in investments in geological prospecting are characterized. The proposals to improve the investment climate are formulated.
Keywords: targeting, success criteria, geological exploration project passport.
Р. 49-55
BOWELS PROTECTION & ECOLOGY
УДК 504
Rakhimov M.S. (Chuvash branch «TFGI, Volga federal district») // Rachimov.marat@yandex.ru
Nikonorova I.V. (Chuvash State University) // niko-inna@yandex.ru
Rakhimov T.M. (Chuvash State University) // rakhimovuser@gmail.com
GEOECOLOGICAL LIMITS SUBSOIL USE IN CHUVASH REPUBLIC
This article is devoted to analysis of subsurface use on the territory of Chuvash Republic given the geoecological load. It is shown that the mineral resources it is a factor of socio-economic development of the territory and geoecological load on the natural environment. A special role has the geographical and geological position of the territory.
Keywords: mineral resources, subsoil use, problems, Chuvashia.
Р. 56-58
HISTORIOGRAPHY
УДК 556.3
Minaev N.D. (Ugra State University, Khanty-Mansiysk) // minaev4444@mail.ru
ON THE PERIODIZATION OF THE HISTORY OF THE STUDY OF THE BOTTOM SEDIMENTS OF THE LAKES OF RUSSIA
This article is devoted to the consideration and addition of historical periods of study of bottom sediments of lakes, which were highlighted in the significant work of DA Subetto «Don Lakes: Paleolimnological Reconstructions». Analyzing the studies carried out in the 21st century, we are invited to highlight the seventh stage, which is largely devoted to the problem of contamination of bottom sediments of lakes. The results of studies on the oil contamination of bottom sediments of the lakes of the Samotlor deposit are presented.
Keywords: bottom sediments of lakes, sapropel, heavy metals, petroleum, petroleum products.
Р. 59-66