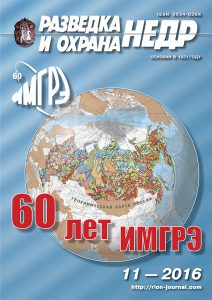 CONTENTS № 11/2016
УДК 550.84
Spiridonov I.G. (IMGRE) imgre@imgre.ru
IMGRE – 60 YEARS OF RESEARCH AND PRODUCTION
The paper displays a 60-year retrospective of the research and productive activities of IMGRE. The Institute has been established for scientific support of inter-disciplinary studies of the national and foreign mineral deposits and mineral base of rare chemical elements. These objectives remain relevant up to this day. Besides, the Institute participates in the regional geological survey projects (i.e., in their geochemical parts) and methodologically supports the geochemical exploration projects, including peer reviewing of their results. Besides, IMGRE staff carries out various geoecological studies.
Keywords: IMGRE, rare elements, mineral deposits, mineral base, mineralogy, geochemistry, ecology, mapping, geochemical methods, history.
Р. 3-6
УДК 550.84
Krinochkin L.A. (IMGRE) // lkrinochkin@mail.ru
Kilipko V.A. (IMGRE) // geochemmap@imgre.ru
REGIONAL GEOCHEMICAL CARTOGRAPHY AS A BASIS FOR THE MINERAGENIC POTENTIAL ESTIMATION OF THE RUSSIAN TERRITORY
Overview of the regional geochemical cartography results demonstrates its high efficiency in localization of the resource potential of large territories as it enables prediction of metallogenic objects of various minerals and rank, promising for discoveries of large and super-large deposits beginning with the very first, i.e., global, level of studies. Regional geochemical cartography is not just a tool to reveal a hierarchy of geochemical fields but to establish their spatial correlation with lithologies and structures, determine their geochemical and metallogenical specialization, as well as general prospectivity.
Keywords: geochemical cartography, geochemical methods, multi-purpose geochemical mapping, anomalous geochemical field, geoinformational model, geochemical specialization.
Р. 6-13
УДК 551.242.11.31:550.84
Kremenetskiy A.A. (IMGRE) // nauka@imgre.ru
Morozov A.F. (Rosnedra) // amorozov@rosnedra.gov.ru
Pilitsyn A.G. (IMGRE) // allexpil@yandex.ru
Veremeeva L.I. (IMGRE) // verli@yandex.ru
Spiridonov I.G. (IMGRE) // imgre@imgre.ru
GEOLOGICAL-GEOCHEMICAL MODEL OF THE STRUCTURAL-SUBSTANTIAL COMPLEXES OF THE CIRCUMPOLAR ARCTIC
On the basis of morphostructural studies and correlation of geological-geophysical sequences of the key structural-substantial complexes underlying the Russian polar Arctic sector and circumpolar Arctic, a new geological-geochemical model of this segment of the crust; in compliance with it, its central element is a sub-latitudinal global trans-Arctic zone of the Paleozoic-Mesozoic plate cover in the continent-sea system (Eurasian Arctic coast – shelf, islands – the Arctic Ocean bathyal – North Canadian Arctic coast). The zone's birthplace was a global-scale Neoproterozoic extension area developed in the Archean crust of the Arctic mega-craton; later within the central part of the area an inter-continental Arctic basin of the existing ocean evolved.
Keywords: bathyal of the Arctic ocean, global trans-Arctic zone in the continent-sea system, Paleozoic sedimentary plate cover, geologic-geochemical model of the crust's evolution.
Р. 13-19
УДК 553.493.58: 553.495
Karas S.A. (IMGRE) // serge-karas@yandex.ru
Kremenetskiy A.A. (IMGRE) // nauka@imgre.ru
Orlov S.Yu. (IMGRE) // nogik@mail.ru
Kultin Yu.V. (IMGRE) // ykultin@yandex.ru
Shlychkova T.B. (IMGRE) // shlychkova.tanya@yandex.ru
BRIQUETTE-ZHELTUHINSKOE RHENIUM DEPOSIT – A NEW GEOLOGICAL AND INDUSTRIAL TYPE HYDROGENIC DEPOSITS: CHARACTERISTICS OF THE GEOLOGICAL STRUCTURE AND TECHNOLOGY OF ISL
Using the estimation studies data, the authors clarified existing notions on geology of the deposit, revealed the geochemical zoning pattern and introduced a genetic model of the Re ore formation. The drillhole-based subterranean leaching technique was developed with ammonium perrhenate as a commercial product. On the basis of the above, along with feasibility studies, the deposit's mineral reserves were officially registered by the State Commission on Mineral Reserves (GKZ).
Keywords: rhenium, coal resource potential of a basin, geochemical zoning, drillhole-based subterranean leaching technique, sorption, Briketno-Zheltukhinskoe mineral deposit.
Р. 20-26
УДК 553.493:338.012
Bykhovskiy L.Z. (VIMS) // vims@df.ru
Arkhipova N.A. (IMGRE) // arkna@yandex.ru
RARE METAL RAW MATERIALS IN RUSSIA: PROSPECTS FOR EXPLORATION AND DEVELOPMENT OF MINERAL RESOURCES
Shows the status of mineral resources base of critical rare metals selected deposites and priority areas for industrial development and further exploration. The existing mineral resource base allows us not only to meet the need for raw materials, but also to come up with a variety of rare metal products to the world market.
Keywords: mineral base, rare metals, industrial deposit, consumption and production of rare metals.
Р. 26-30
УДК 549.08:553.087
Levchenko E.N. (IMGRE) // levchenko@imgre.ru
Ozhogina E.G. (VIMS) // vims-ozhogina@mail.ru
MINERALOGICAL AND TECHNOLOGICAL SUPPORT IN THE GEOLOGICAL EXPLORATION OF MINERAL RESOURCES, MINING AND PROCESSING OF RAW MATERIALS RARE-METAL ORE
Considered modern mineralogical and technological tasks in the system of geological exploration, extraction and processing of rare metal ores. For example, specific objects considered possible geological-technological mapping.
Keywords: rare-metal ore, exploration stage, mineralogical studies, technological tests, geological-technological mapping.
Р. 30-36
УДК 553.493:553.262
Lapin A.V. (IMGRE) // lapin@imgre.ru
Kulikova I.M. (IMGRE) // kulikova@imgre.ru
Levchenko E.N. (IMGRE) // levchenko@imgre.ru
ABOUT THE PROSPECTS OF APATITE-PYROCHLORE TYPE ORE IN THE ROCKS EC-ZOKONTAKTOVOGO HALO CARBONATITES
As established, the Chuktukon weathering profile where the carbonatite-derived material prevails, contains a new promising P-Nb ore type developed after various facies of the exocontact metasomatic rocks. The data obtained witness that apatite-pyrochlore ores localized in the exocontact halo of carbonatites are prospective and widespread.
Key words: apatite-pyrochlore ore, exocontact metasomatite, weathering profile.
Р. 36-41
УДК 550.84.09:553.43
Nikolaev Yu.N. (Moscow State University) // nikolaev@geol.msu.ru
Dzhedzheya G.T. (Moscow State University) // jejeya@yandex.ru
Sidorina Yu.N. (Moscow State University) // bobbin@yandex.ru
Kalko I.A. (Moscow State University) // ildarkalko@yandex.ru
GEOCHEMICAL ZONING OF THE PESCHANKA PORPHYRY-EPITHERMAL SYSTEM (WESTERN CHUKOTKA)
Through the modern techniques of analysis and data processing and with the use of GIS technologies the 3D-model of geochemical zoning was developed for the Peschanka porphyry-epithermal system. The model displays spatial distribution of the associations of elements and mineral assemblages and, being multilevel, it fully reproduces the stages of ore formation at the Peschanka. The indicator of vertical geochemical zoning AgPbZn/CuBiMo was recommended as it is of practical importance to assess erosion level of porphyry copper mineralization.
Keywords: porphyry-epithermal system, porphyry copper stockwork, geochemical association, geochemical zoning, indicator of geochemical zoning.
Р. 41-46
УДК 550.84
Vaganov I.N. (IMGRE) // bvfunt@rambler.ru
Kabirova R.U. (IMGRE) // onpar-imgre@rambler.ru
LABORATORY AND ANALYTICAL ENSURING SEARCH AND GEOCHEMICAL WORKS
The article summarizes the experience of laboratories for analytical support of mineralogical-geochemical and environmental work conducted IMGRE. Reviewed instrument and methodological framework, provides recommendations for sample preparation and quality management of analytical works.
Keywords: sample preparation, of SQA, XRF, ICP-MS/AES, standard samples, and mineralogical analysis.
Р. 46-49
УДК 551.311.234
Achkasov A.I. (IMGRE) // anivach@yandex.ru
Varava K.V. (IMGRE) // kvarava@yandex.ru
Samaev S.B. (IMGRE) // kvarava@yandex.ru
EKOLOGICAL AND GEOCHEMICAL RESERCVES OF SOILS IN MOSCOW
The article presents the results of eco-geochemical mapping of Moscow soils. Results monitoring of contents heavy metals in urban soils under the forty-year period. Environmental assessment of soil pollution in the city and its individual municipalities. The possibilities of environmental geochemistry in the study of the distribution of contaminants in environmental components of a large metropolis.
Keywords: ecologycal geochemistry, eco-geochemical mapping, monitoring, soil pollution, the total pollution index, maximum permissible concentration, content background.
Р. 49-54
УДК 550.424
Yanin E.P. (Institute of Geochemistry and analytical chemistry im. V.I. Vernadsky RAS) // yanin@geokhi.ru
THE DEPORTMENT OF HEAVY METALS IN TECHNOGENIC SILTS OF THE RIVER
Studied the levels of concentration and chemical states of heavy metals (Cd, Cu, Ni, Pb) in the background alluvium and in the technogenic river silts. It is established that metal concentrations in the silts by many times exceed their contents in the background alluvium. It is shown that in the technogenic silts sharply predominate the mobile forms of metals, especially sorption-carbonate forms. This defines the role of technogenic silts as the second source of the pollution of water mass and he indicates the possibility of their direct toxic action on the living organisms.
Keywords: аlluvium, technogenic silts, heavy metals, speciation of metals, migration, mobility.
Р. 54-59