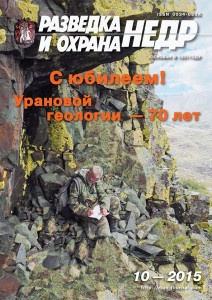 CONTENTS № 10/2015
УДК 553.495.042
Tsaruk I.I. (Urangeo) // gan@urangeopoisk.ru
Dundukov N.N. (Urangeo) // Dundukov@urangeo.ru
MAJOR MILESTONES IN THE CREATION OF THE MINERAL RESOURCE BASE OF URANIUM RUSSIA AND THE NEAR ABROAD
Considered in detail the history of uranium exploration in the USSR, starting with the 40-ies of the last century, the creation of a specialized First chief geological Department (First Cupola) of the Ministry of Geology of the USSR, extraterritorial expeditions PHU throughout our country, the mining of uranium. Characterized by deposits of uranium all installed types, uranium reserves and the status of mining them. The prospects of the development of the mining enterprises in Russia, Mongolia, CIS countries. Provides information about the organizers, heads of the enterprises of uranium Geology.
Key words: a mineral resources, uranium field, the ore area, uranium.
Р. 3-17
УДК.553.04(470)
Mashkovtsev G.A. (VIMS) // vims@df.ru
Svyatetskiy V.S. (Atomredmetzoloto) // VStCvyatetsky@armz.ru
Miguta A.K. (VIMS) // vims@df.ru
Polonyankina S.V. (Atomredmetzoloto) // Polonyankina.S.V.@armz.ru
Shchetochkin V.N. (VIMS) // vims@df.ru
THE FORMATION AND DEVELOPMENT OF MINERAL RESOURCE BASE OF URANIUM RUSSIA
Briefly reviewed the status of global and domestic resources of uranium, its demand and production. The results of the activities uranium production enterprises of Russia and the reproduction of the resource base of uranium in 2006-2014, which was carried out in accordance with the «joint action Plan» the Ministry of natural resources, Rosnedra and Rosatom, are demonstrate. The necessity of actualization of the sources Plan is need. For the period 2015-2030 proposed measures to ensure industry Russia nuclear materials.
Key words: uranium, the joint action Plan, mineral resources, production, reproduction of uranium.
Р. 17-24
УДК 553.495
Peshkov P.A. (Vitimgeoprom) // vitimgeoprom@rambler.ru
Sumatov Yu.M. (Geosigma) // sumatov@rambler.ru
Shumilin M.V. (Vitimgeoprom) // shumilin.zbk@gmail.com
YOUNG URANIUM OF RUSSIA
The article reviews basic features of surface uranium deposits, discovered in 1970-1980 in Canada, USA, and later – in Sweden, Finland and Russia. Such objects are classified as «young» uranium subtype. Short description of Orogochi and Sirotinka deposits, discovered by Vitimgeoprom and «Geosigma» in Karenga field of Zabaikalsky krai (region) is given. The article also demonstrates necessity of further geological explorations, aimed at the increase of «young uranium» mineral base Zabaikalsky krai and other regions of Russia.
Key words: Karenga field, deposit, Sirotinka, Orogochi, uranium mineralization, young uranium, non-radioactive uranium, inferred resources,anomaly, occurrence,soft sediments.
Р. 24-28
УДК 553.495(571./.5)
Dolgushin A.P. (Urangeo) // dolgushin1960@mail.ru
Tsaruk I.I. (Urangeo) // tsaruk@urangeo.ru
URANIUM POTENTIAL OF THE CENTRAL-SIBERIAN AREA
This article describes main uranium regions of Central-Siberian area and allocations of main types of uranium mineralization, including an ore run parameters and resources. It is shown that the most attractive uranium deposits for exploration are those sandstone-type in the Mezozoic-Kainozoic sediments and those of unconformity-type in pre-Cambrian rocks. Unconformity-type deposits are associated with big Archean-Proterozoic tectonic protrusion of the basement. Sandstone-type deposits have been found in the selvage of West-Siberian plate and they are connected with the oxidized zones. It has been noted, that Stratiform sulfidic uranium ore runs of the main interest. They have the first kilometers of length in the Devon-Carbon sediments of Paleozoic depressions in Tuva and Minus. These deposits can be deemed as objects for open cast mining or for ISL by junior companies.
Key words: Central-Siberian area, uranium, uranium area, unconformity-type, sandstone-type, reserves, resourses, ore run.
Р. 28-34
УДК 553.041
Altunin O.V. (VIMS) // papamargo@yandex.ru
Mitrofanov E.A. (Urangeo CF Sosnovgeologiya) // mitevgen@mail.ru
Rasulova S.D. (VIMS) // nikitina@vims-geo.ru
Kokovkin A.A. (Institute of Tectonics and Geophysics FEB RAS Y.A. Kosygin) // kokovkin@itig.as.khb.ru
Dzyadok S.A. (Urangeo CF Sosnovgeologiya) // dzyadok@urangeopoisk.ru
Nikitina E.S. (VIMS) // nikitina@vims-geo.ru
Prokhorov D.A. (VIMS) // prokhorov@vims-geo.ru
PROSPECTS OF REVEALING HYDROGENIC URANIUM DEPOSITS IN SIBERIA AND THE FAR EAST
It is proposed to increase the mineral resource potential of uranium in Russia due to new prospective areas Vitim uranium ore district and the south of the Far East with the identification of the most favorable type of hydrogenic deposits associated with paleo riverbed structures. They were identified perspective areas and proposed them leading geological, geophysical and prospecting and prospect evaluation survey.
Key words: hydrogenous deposits, paleo riverbed structure, bed oxidation zone.
Р. 34-44
УДК 553.495(470.3)
Mironov Yu.B. (VSEGEI) // Yuri_Mironov@vsegei.ru
Karpunin A.M. (VSEGEI) // Aleksey_Pugovkin@vsegei.ru
Pugovkin A.A. (VSEGEI) // ogumr@vsegei.ru
THE URANIUM POTENTIAL OF THE RUSSIAN PLATE
State and prospects of uranium mineralization of the Russian Plate are considered. The characteristic of uranium ore districts and well-known deposits, including objects of the "surface-type" of practical interest is shown. Prospective areas are selected for exploration of uranium deposits of various types.
Key words: deposit, Russian Plate, ore district, uranium.
Р. 44-50
УДК 553. 495: 553. 2 (571.54/. 55)
Zaytsev S.U. (Sosnovgeo) // zaytcev-sosnovgeo@mail.ru
Chekanov V.N. (Sosnovgeo) // fleischwolf88@mail.ru
Tyuleneva V.M. (VIMS) // verat @ inbox.ru
Grebenkin N.A. (VIMS) // grebenkin2@mail.ru
PROSPECTS FOR THE URANIUM-CONTAINING TARBALDZHEYSKY VOLCANO-OVERTHRUST STRUCTURE (TRANSBAIKAL REGION)
The geologic structure and uranium-containing Tarbaldzheysky volcano-overthrust structure, patterns of localization and mineralogical and geochemical features of ore concentrations, the prospects for uranium-ores facilities were considered.
Key words: uranium, ore deposition, mineralogy, geochemistry,Transbaikal region.
Р. 50-56
УДК 552.579:553.072:553.044 (470.23:474)
Mikhaylov V.A. (VCEGEI) // Vitaly_Mikhailov@vsegei.ru
Vyalov V.I. (VCEGEI) // Vadimir_Vyalov@vsegei.ru
Mironov Yu.B. (VCEGEI) // Yuri_Mironov@vsegei.ru
Iskyul G.S. (VCEGEI) // Georgy_Iskul@vsegei.ru
Lodygin A.N. (VCEGEI) // Aleksandr_Lodygin@vsegei.ru
NEW DATA ON URANIUM-BEARING SHALE DICTYONEMA AT BALTIC SEA (KAYBOLOVO-GOSTILITSY AREA, LENINGRAD REGION)
The results of researches of uranium contents in Dictyonema shale of Pakerort horizon in Baltic basin's Kaybolovo-Gostilickaya area (Leningrad region) are presented. High maintenances of uranium in the layer of Dictyonema shale are established and its look-ahead resources are estimated.
Key words: dictyonema shale, uranium, valuable metals, predicted resources.
Р. 56-60
УДК 550.84.262:842
Myasnikov A.A. (Urangeo CF Sosnovgeologiya) // sosna3@irk.ru
Dundukov N.N. (Urangeo CF Sosnovgeologiya) // Dundukov@urangeo.ru
Dmitriev A.A. (Urangeo CF Sosnovgeologiya)
ANOMALOUS SECONDARY URANIUM FIELDS – THE BASIS FOR EFFICIENT SEARCHES SLABOPEREMENNYKH URANIUM DEPOSITS IN TRANSBAIKALIA
Results of experimental-methodical geochemical work performed for the six ore areas of Transbaikalia. Established confinement secondary lithochemical haloes of uranium to uranium ore deposits. Evaluated the reliability of prospecting by the method of geochemical survey on secondary halos RAS sowing. It is revealed that the secondary lithogeochemical halos of uranium and indigenous uranium mineralization is confined to the watersheds and the upper parts of slopes and on the space occupied by floodplains, uranium ore facilities are lacking.
Key words: secondary haloes of uranium, nature and mechanism of formation of halos of uranium, lithochemical search, watersheds, slopes, foothills, floodplains.
Р. 60-67
УДК 495.044 (571.53)
Kisluchenko G.A. (Urangeo CF Sosnovgeologiya) // gan@urangeopoisk.ru
Tsaruk I.V. (Urangeo CF Sosnovgeologiya) // tsaruk@urangeo.ru
STRUCTURAL AND RADIO-GEOCHEMICAL PECULIARITIES OF LOCALIZATION OF URANIUM MINERALIZATION IN OKUNAYKA ORE CLUSTER OF AKITKAN PUOR
Uranium ore objects of Okunayka ore cluster characterized by obvious peculiarities of their localization. These peculiarities are expressed in points of almost all of the known occurrences for relation to crossing of sublatitudinal and North-West tectonic zones. Radio-geochemical factors are determined by the position of the uranium occurrences in specific anomalous blocks with strong differentiated distribution of radioelements with abnormally high concentrations of these elements.
Key words: uranium, prospecting, peculiarities of localization of mineralization.
Р. 67-75
УДК 553.495.04.(470)
Petrov O.V. (VSEGEI) // OPetrov@vsegei.ru
Mironov Yu.B. (VSEGEI) // Yuri_Mironov@vsegei.ru
Lebedeva G.B. (VSEGEI) // Galina_lebedeva@vsegei.ru
Pugovkin A.A. (VSEGEI) // Aleksey_Pugovkin@vsegei.ru
Shatov V.V. (VSEGEI) // Vitaly_Shatov@vsegei.ru
«SURFACE» URANIUM DEPOSITS – NEW TREND OF DEVELOPMENT OF THE MINERAL RESOURCES BASE OF URANIUM IN THE RUSSIAN FEDERATION
The opportunities of the formation of the «surface» uranium deposits associated with peats of the humid climatic zone on the example of the United States, Great Britain, Sweden and the Russian Federation, were studied.
Key words: humid zone, «surface» type, peatlands, uranium.
Р. 75-82
УДК 553.495.078.(470.21/.22)
Afanaseva E.N. (VCEGEI) // Elena_Afanasieva@vsegei.ru
Mironov Yu.B. (VCEGEI) // Yuri_Mironov@vsegei.ru
URANIUM METALLOGENY OF THE BALTIC SHIELD
The characteristic of spatial-temporal patterns of the uranium and gold-uranium mineralization location of the Baltic Shield is given. Special attention is focused on objects of the Pana-Kuolayarvi ore district (Russia) and their comparative characteristic with foreign analogues. The conclusion about the appropriateness of involving the famous gold-uranium occurrences of the Baltic Shield in the further research is made.
Key words: uranium, gold, deposits, metallogeny, ore district.
Р. 82-88