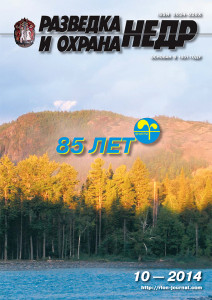 CONTENTS
УДК 550.8:553.98:06.62
Prishchepa O.M. (FSUE «VNIGRI») // omp@vnigri.ru
Grigorenko Yu.N. (FSUE «VNIGRI») // ins@vnigri.ru
Ilinskiy A.A. (FSUE «VNIGRI») // ins@vnigri.ru
VNIGRI – THE MAIN RESULTS OF RESEARCH EXPLORATION DURING THE PERIOD 2009-2014
The main achievements of VNIGRI has been obtained when performing researches on the governmental contracts and ordered projects and by focusing the research activity in the North West and the Far East regions of Russia. The most significant results was obtained in integrated regional exploration in order to create models concerning the poor-explored petroleum areas. New perspective objectives on the onshore and offshore areas located within five petroleum provinces with an estimate recoverable resources of about more than 500 million TOE. It made it possible to prepare and to offer 35 new areas of licensing.
Key words: VNIGRI anniversary, regional researches, exploration, oil and gas potential areas.
Р. 5-11
УДК 552.578.061.3(571.51)
Bazhenova T.K. (FSUE «VNIGRI») // ins@vnigri.ru
Shapiro А.I. (FSUE «VNIGRI») // ins@vnigri.ru
Vasileva V.F. (FSUE «VNIGRI») // ins@vnigri.ru
Vishnevskaya N.B. (FSUE «VNIGRI») // ins@vnigri.ru
Klimova L.I. (FSUE «VNIGRI») // ins@vnigri.ru
Kunaeva N.Т. (FSUE «VNIGRI») // ins@vnigri.ru
Turenkova G.V. (FSUE «VNIGRI») // ins@vnigri.ru
Bogoslovskiy S.A. (FSUE «VNIGRI») // ins@vnigri.ru
Rogozina E.A. (FSUE «VNIGRI») // ins@vnigri.ru
OIL-AND-GAS GENERATION AND ACCUMULATION IN THE SOUTH-WEST OF THE SIBERIAN PLATFORM
Oil and gas generation in the southwest of the Siberian platform (Baikit anteclise and Katanga saddle and adjacent territories) is presented. Vendian and Riphean deposits are considered source rocks. Riphean source rock sections had possessed the "useful" efficiency only in the areas where Riphean and Vendian catagenesis was not unlike (no catagenetic unconformity). In these areas oil and gas formation were destroyed Riphean by pre-Vendian erosion. The study area is the oil and gas formation center. The quantitative assessment of a possible accumulation of oil is given. Phase zoning of hydrocarbon bearing is considered.
Key words: oil and gas formation, oil and gas accumulation, source rocks, hydrocarbon bearing, Siberian Platform.
Р. 12-17
УДК 553.983(100)
Prishchepa O.M. (FSUE «VNIGRI») // omp@vnigri.ru
Averyanova O.Yu. (FSUE «VNIGRI») // averyanova@ngtp.ru
WORLD EXPERIENCE AND APPROACHES TO THE OF HYDROCARBON ACCUMULATIONS DEVELOPMENT IN SHALE STRATA
Development of mineral resource is strongly related with the development of new non-traditional for Russian hydrocarbon accumulations in low-permeability shale formations. Their rapid involvement in process depends on use and adaptation of local geological conditions to the foreign experiment in assessment and development. Running state mechanisms promoting the development of oil and gas accumulations in shale formations (Domanic, Bazhenov, etc.) will help to quickly overcome the technological and economic difficulties. All this facts impact on the scenario conditions fuel energy industry development and energy security of the country.
Key words: unconventional hydrocarbon accumulations, shale formations, Domanic, Bazhenov formation, mineral resources of Russia.
Р. 17-21
УДК 550.384:[551.8:552.5]
Khramov A.N. (FSUE «VNIGRI»)
Iosifidi A.G. (FSUE «VNIGRI») // iosifidi@km.ru
Popov V.V. (FSUE «VNIGRI») // v_v_popov@yahoo.co.uk
Rodionov V.P. (FSUE «VNIGRI») // ins@vnigri.ru
PALEOMAGNETIC RESEARCHES OF THE GEOLOGICAL HISTORY OF SEDIMENTARY BASINS
The performances of the paleomagnetic methods for studying the geological history of sedimentary basins are considered. The main constructional criteria of the paleomagnetic polarity scales are given. The results of the magnetostratigraphic research of Triassic and Permian deposits of Pay-Khoi, magnetotectonic research Pay-Khoi and the Subpolar Ural are presented. The results of definition of the direction, source of terrigenous material and extension of the ancient coastline on the basis of studying of the anisotropy of magnetic susceptibility cyclites of Pay-Khoi and the Subpolar Ural are shown.
Key words: magnetostratigraphic methods, anisotropy of magnetic susceptibility, paleomagnetic scale, Triassic, Permian, Pay-Khoi, the Polar Ural.
Р. 21-27
УДК 552.578.061.4:551.734.5/.735.1(470.13)
Dmitrieva T.V. (FSUE «VNIGRI») // dmitrievatv_ds@mail.ru
Eremenko N.M. (FSUE «VNIGRI») // huminga@yandex.ru
Sokiran E.V. (FSUE «VNIGRI») // elena_sokiran@mail.ru
LITHOFACIES AND STRATIGRAPHY FEATURES OF DOMANIK-TOURNAISIAN OIL AND GAS BEARING SECTION OF FOREDEEP OF THE TIMAN-PECHORA PLATE
Stratigraphical and lithofacial characteristics of the Domanik-Tournaisian deposits Bolshesynnia, Verhnepechorsk, Korotaihinsk and Kosyu-Rogovsk depressions of the Timan-Pechora plate are discussed. Shallow water bioherm structure representing the Domanik-Tournaisian petroleum reservoir and Domanikoid rocks, nonconventional perspective reservoir are defined. The litologic characteristic, facial features and paleogeographic changing are shown.
Key words: oil and gas complex, lithofacies, stratification reservoir, Domanik-Tournaisian deposits, foredeep, Timan-Pechora plate.
Р. 27-30
GEOLOGY & METHODICS OF PROSPECT & EXPLORATION OF DEPOSITS
УДК 550.839
Mezentseva A.E. (VNII-1) // amezentseva@yandex.ru
Esipenko A.G. (SVKNII DVO RAS) // esipenko@neisri.ru
PHYSICAL PROPERTIES OF WALL METASOMATIC ROCKS IN GOLD AND SILVER LODES OF NORTH-EASTERN RUSSIA: THEIR COMPARISON, STUDY PROBLEMS AND TASKS
Physical properties of wall metasomatic rocks are established and described for three Au and Ag lodes belonging to different ore deposit assemblage types. According to results of geometric interpretation of classes having high paired physical interdependence values obtained by virtue of a special program, mineralization occurs beyond such classes and "avoids" numerical ordering. A conclusion is made that solution of ore prediction task is subject to non-linear dynamics.
Key words: physical properties, wall metasomatic rocks, local ore prediction.
Р. 31-36
УДК 553.41
Vdovina O.K. (FSUE «IMGRE») // vdovinaok@mail.ru
Egorkin S.V. (FSUE «IMGRE») // yes_v@mail.ru
Karabaev G.V. (FSUE «IMGRE»)
THE ROLE OF HYDRO-GEOCHEMICAL METHODS IN THE PROSPECTING WORK IN BURIED AREAS
Shown on the basis of extensive factual material the possibilities of hydro-geochemical methods that helped to detect in buried areas of the south of the East European Platform the areas having good prospects for gold, non-ferrous metals, rare and rare-earth metals.
Key words: anomalous hydrogeochemical fields, elements-indicators, hydrogeochemical methods, mineral deposits.
Р. 37-39
УДК 622.271
Nurzhumin E.K. (KazATU) // agun.katu@gmail.com
Toleubekova Zh.Z. (KarSTU) // jtoleubekova@mail.ru
Kereybaeva M.N. (MIIGAiK) // meruyert-kereibayeva@yandex.ru
THE GEOMETRIC VARIABILITY IN SURFACE OF ORE DEPOSIT AND ITS KNOWLEDGE
The comparison principle of geological surface deposits geometry relative to correct subdued form is describing. Parametric components of near-contact zones' overall structures are given. The analysis of the current up-to-date objectives of analytical description of the ore deposits' geological surface is completed.
Key words: ore deposits, near-contact zone, the geometric variability.
Р. 39-42
GEOPHYSICS
УДК 550.832.552
Karpuzov A.F. (Rosgeologia) // afkarpuzov@rusgeology.ru
Laubenbakh E.A. (State Research Center «VNIIgeosystem») // lea@geosys.ru
Priezzhev I.I. (Schlumberger) // ivanp@slb.com
METHODOLOGY PHASED GENERALIZATION:THE SEQUENCE OF WORK AND RESULTS OF THE APPLICATION IN GEOLOGICAL RESEARCH
To improve the efficiency and reliability of the geological interpretation of planned constructions based on the use of materials phase (scale range 1-1 000 000 -1:50 000) system (magmatogenic ore system- ore field) generalization of geological and geophysical data established methodologies include core modules analysis and re-interpretation of geological and geophysical data problems prognostic assessment areas in ore minerals, implemented in three stages (regional, medium-sized, local). The works are based on modern concepts of ore-bearing formation using new algorithms for processing and interpretation of complex material, focused on the identification and assessment of major ore deposits.
Key words: methodology, retrospective and geophysical materials, technologies geophysical modeling, 3D models.
Р. 42-47
УДК 550.83+553.3
Spichak V.V. (Geoelectromagnetic Research Centre IPE RAS) // v.spichak@mail.ru
Goydina A.G. (Geoelectromagnetic Research Centre IPE RAS) // goidinaa@mail.ru
GEOPHYSICAL FOOTPRINTS OF THE ENDOGENEOUS MINING DEPOSITS: SORSKOE COPPER-MOLIBDEN COMPLEX CASE STIDY
3D models of the electrical resistivity, seismic velocities and density of the Kuznetskii Alatau region, where Sorskoe copper-molibden deposit is located, are built. Basing on their joint analysis it is shown that both the possible area of the ore generation and area of its precipitation are characterized by low electrical resistivities, compressional seismic velocities, ratio Vp/Vs and density. 3D model of the lithotypes is built based on the rocks' classification from silica content in the rocks. Basing on this model the copper-molybdenum ores in the study area are forecasted at the depths of 4-5 km.
Key words: endogenous ore deposits, geophysical indicators, model of lithotypes, Sorskoe copper-molybden deposit.
Р. 47-51
HYDROGEOLOGY & GEOLOGICAL ENGINEERING
УДК (553.74) 575.13
Zhuraev М.R. (SE «Institute GIDROINGEO», Tashkent) // juraevm@inbox.ru
Dzhuraev R.E. (SE «Ferghana hydrological expedition», Kokand) // djuraevm@inbox.ru
JUSTIFICATION OF PROSPECTS SULFUROUS WATERS IN DEPLETED OIL FIELDS (FOR EXAMPLE CHIMIONS STRUCTURE)
On the territory of the Republic of Uzbekistan in the Ferghana valley are depleted oil fields, where it was noted the manifestation of hydrogen sulfide, thermal waters. Based on materials from oil exploration and individual hands-on mizhplastovi water were established relationship between hydrochemical and geophysical parameters, the unloading area in faults; delineated the most promising areas of accumulation of hydrogen sulfide waters, increased concentration, determined by their place in the structures Chimion-Kashkarkyr.
Key words: physical and geological model, the apparent resistivity, induced polarization, reservoir properties, hydrogen sulfide water.
Р. 52-58
TECHNIQUES &TECHNOLOGY
УДК 553.323'461'462'43:622.7+543.52
Ryabkin V.K. (FSUE «VIMS) // rmo-vims@mail.ru
Cheprasov I.V. (FSUE «VIMS) // i.v.cheprasov@yandex.ru
Tikhvinskiy A.V. (Aliud Gmbh, Hamburg) // hamburg@aliud-int.com
STUDIES TO ACESS THE TECHNOLOGY FOR PROCESSING OF FERROUS AND ALLOY METALS USING POLYCHROMATIC PHOTOMETRIC METHOD OF SEPARATION
The studies were conducted on the separator Optosort Gemstar 300 for ore practize size -20 +5 mm on the samples of the carbonate manganese ore of Usinskoe deposit, chrome ore of Saranovskoe, complex ores of Kalgutinskoe and copper-molybdenum ore of Sorskoe deposits. The results obtained are sufficient for laboratory technical tests on representative samples of ore.
Key words: radiometric separation, polychrome photometric separation, rhodochrosite, chromites, molybdenite, wolframite.
Р. 58-62
УДК 550.8.05:553.98
Kalinin D.F. (FSURPE «Geologorazvedka») // onadima@mail.ru
Ronin A.L. (FSURPE «Geologorazvedka») // geolraz@geolraz.com
Kushmar I.А. (FSUE «VNIGRI») // ins@vnigri.ru
CAPABILITIES OF COMBINED TECHNOLOGIES OF PREDICTIVE GEOPHYSICAL AND GEOCHEMICAL HYDROCARBONS STUDIES
Considered is a series of combined approaches to formalized predictive zoning of oil- and gas-bearing areas with use of prototype and simulated standards. Probabilistic and statistical methods that quantitatively evaluate data contribution of prospective indicators are utilized in order to evaluate certainty of prognostic models development. Suggested are the geochemical methods, providing localization of hydrocarbon deposit-bearing objects. Regional predictions of the oil-and gas-bearing areas in Irkutsk region are exemplified by the integration of geophysical and geochemical data.
Key words: рrobabilistic and statistical prediction, gravimagnetic tomography, method of singular points, prospecting prerequisites of hydrocarbon deposits, integration of geophysical and geochemical data.
Р. 62-68
BOWELS PROTECTION & ECOLOGY
УДК 504.054:504.74+553.043+504.064
Koroleva N.L. (FSUE «VIMS») // nk.vims@yandex.ru
Rossman G.I. (FSUE «VIMS») // genrih.rossman@yandex.ru
PROGNOSTIC ESTIMATION OF DAMAGE TO FAUNA WHICH IS INCLUDED IN THE FEASIBILITY STUDY OF MINERAL DEPOSITS
The improvements to the method of ecological and economic prognostic estimation of damage to fauna are suggested in this article (the method was published in the article by Denisova Yu.V. and Rossman G.I. «The problem with assessing the damage wildlife in the justification of project feasibility exploration conditions of mineral resources» [1]. In particular, next items have been substantiated: the affected area has been divided into two zones instead of four, the distinction of zones has been determined by scattering halos of pollutants (that was calculated by using popular software program «Ecologist» of company «Integral»), the arithmetic average values of safety coefficients instead of extreme ones have been used. In addition, simplified formula and examples of calculation have been presented.
Key words: damage to fauna, feasibility study.
Р. 69-72