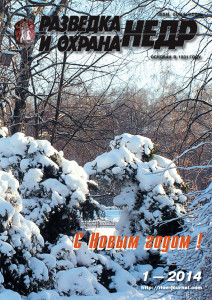 CONTENTS
Aksenov S.A., Nekrasov A.I. Results of prospecting and appraisal work 2013 for solid minerals at the expense of means of the Federal budget
Р. 3-8
GEOLOGY & METHODICS OF PROSPECT & EXPLORATION OF DEPOSITS
УДК 550.89+311.214
Shevelev V.P. (EMG LLC «Gloom-river»)// ugrjum@list.ru
THE COMPARATIVE RESULT OF TWO METHODS OF THE STOCK COUNTING OF AURIFEROUS SAND ON THE EXAMPLE OF AMUR REGIONS DEPOSITS
The method of the metal's stock counting in auriferous sand's deposits is proposed, it is based on the mechanism of propability-statistical influence of every geological assay selection on the counting result. The essential change of the stock counting in comparison with the existent method is not observed, so by the metal's stock counting all assays selection take part without the changes of their absolute meaning.
Key words: assay, very high assay, stock counting, influence coefficients.
Р. 9-12
УДК 552.5+553.55´571´611.4´635´985.075(470.661)
Belyaev E.V. (FSUE «CNIIgeolnerud») // bel@geolnerud.net
LITHOLOGY AND MINERAGENIC SPECIALIZATION OF STRUCTURAL-FORMATIONAL SYSTEMS IN CHECHEN REPUBLIC
The article contains a brief mineragenic characteristic of territory of the Chechen Republic. Basic mineragenic taxons (Tersk-Caspian district, subzone of Limestone Dagestan, Agvali-Khivean subzone) are characterized by a specific set of non-metal minerals. The largest resource potential belongs to the Tersk-Caspian district. The basic objects for industrial development and geologic exploration are offered.
Key words: non-ore mineral, Chechen Republic, minerageny, taxon, suggestion, development, mineral-raw base.
Р. 12-20
УДК 550.84:553.677(470.2)(470.22)
Malov N.D. (VSUE «Sevzapgeologia») // szggp@inbox.ru
METHODS OF GEOCHEMICAL PROSPECTING IN COVERED AREAS OF THE NORTH-WEST
Preconditions for application and entity of new methodical complex for geochemical prospecting of covered industrial targets is considered from the case study of the Belomorian pegmatites. Complex is recommended for revision prospecting of some other of minerals in the Kola-Karelian region. Keywords:prospecting, strayfluxes, uranium, helium, methane.
Р. 20-22
УДК 550.8.05:550.83:553.525
Ryazantsev P.A. (Institute of Geology Karelian Research Center Russian Academy of Science) // chthonian@yandex.ru
STRUCTURING OF A ROCK MASSIF OF DIMENSION STONE DEPOSITS ON THE BASIS OF INTEGRATED MODELLING
A method for improving the evaluation quality of raw materials at dimension stone deposits, based on 3D modelling of a rock massif is discussed. The results of geological-geophysical studies conducted in a gabbrodolerite block-producing quarry «Drugoreckoe-3» (South Karelia) are presented as an example of the method proposed. The data obtained are used to support the integrated approach as a factor which increases reliability of evaluation block sizes. Furthermore, some characteristics of 3D electrical resistivity tomography used to determine fracturing are analyzed and the correlation level of geological and geophysical information is assessed.
Key words: dimension stone, 3D model, structuring, fracturing, block sizes, 3D ERI.
Р. 22-27
УДК550(471.503+471.4)
Korobov A.D. (Saratov national research university) // korobad@yandex.ru
Korobova L.A. (Saratov national research university) korob@info.sgu.ru
SECONDARY ALBITES IN A TERRIGENOUS RESERVOIRS FROM WEST SIBERIA AS INDICATORS OF OIL AND GAS PROMISING TERRITORY
Corrosion and regeneration types of plagioclase albitization have been determined in a terrigenous complex of productive reservoirs within the cover; this reflects two settings of tectonic-hydrothermal activation in a riftogenic sedimentary basin. Under the pulsating stress conditions (geodynamic anomalies), all plagioclases experience corrosion and, consequently, deanorthitization, with formation of authigenic albite foraminated crystals. In relatively quiescent tectonic settings, regeneration albite develops, generally over the fragments of terrigenous albite (albite-oligoclase). The process of plagioclase deanorthitization is accounted for by the internal resources of the mineral elements, while origination of regeneration (vein) albite requires Na, Al, and Si inflow from the outside. To a considerable extent, they may be supplied with the brines arriving from the Paleozoic basement of the West Siberian Plate and actively involved in hydrothermal mineral formation.
Key words: corrosion and regeneration albite, brines, reservoirs, hydrocarbons, hydrothermal springs, tectonic activity.
Р. 27-32
GEOPHYSICS
УДК 550.837.31
Tatkov I.G. (Geological Institute, Siberian Branch of Russian Academy of Sciences) // tigr325@gmail.com
Tatkov G.I. (Geological Institute, Siberian Branch of Russian Academy of Sciences)
Baderin A.M. (Geological Institute, Siberian Branch of Russian Academy of Sciences)
Kovbasov K.V. (Institute of Petroleum Geology and Geophysics.; Siberian Branch of Russian Academy of Sciences) // kovbasov@gmail.com
THE RESULTS OF ERT TO PROSPECTING OF GOLD ORE IN PERMAFROST AND ALPINE TERRAIN OF NORTHERN BAIKAL REGION
The testing algorithm of Res2DInv inversion was carrying out by pole-dipole multichannel sounding installation. The influence of various noise was estimated, had chosen an optimal processing parameters, that reduce ambiguity of geological interpretation data of electroresistivity tomography method. The dependence of inversion effectiveness from station interval, quality of initial data, overlap of geoelectrical section of direct and reversal installations was confirmed. Studying of ore – hosting structures of Kelyano-Irokindinskoy structural-formation zone were shown that in permafrost and Alpine terrain conditions it is important to count a confounding factor. It could allow increasing effectiveness and detail of geological interpretation data by electroresistivity tomography method.
Key words: geophysics, electrical prospecting, inversion, electroresistivity tomography (ERT), ore gold.
Р. 32-38
УДК 553.3: 550.8.056
Kuzin A.V. (Ural state mining university) //gmf.opi@ursmu.ru
EXAMPLES OF MANIFESTATIONS FLUORITE DEPOSITS MONGOLIA IN THE GEOPHYSICAL FIELDS
The materials field gravimetric, magnitometric, of electrical, radiometric work on the three deposits of quartz-fluorite veins. Established in each case, a peculiar expression of mineralization in the fields and anomalies of geophysical methods.
Key words: geophysics, fluorite, physical and geological models.
Р. 38-41
HYDROGEOLOGY & GEOLOGICAL ENGINEERING
УДК 556.3.01
Polshkova I.N. (Water Problem Institute RAS) // z_irpol1@mail.ru
METHODOLOGY OF THE ASSESSMENT OF SHARING OF UNDERGROUND WATERS OF THE CROSS-BORDER WATER-BEARING HORIZONS ON MATHEMATICAL MODELS
The results of studying of transboundary groundwater interaction in Russian-Kazakhstan and Russian-Ukraine boundary area are given. The direction of undisturbed groundwater flows is determined, and changes caused by the exploitation of the aquifers are assessed. The methodological approaches for solving transboundary problems applied to groundwater are determined as a result of mathematical modelling. Modeling is based on software «Aquasoft».
Key words: transboundary ground water flows, mathematical modeling, «Aquasoft».
Р. 42-46
TECHNIQUES &TECHNOLOGY
УДК 541.11:549.655'221'752/.757+622.775
Likhnikevich E.G. (FSUE «VIMS») // may.88@mail.ru
Lebedeva Yu.I. (FSUE «VIMS») // juliaboo88@gmail.com
THE FEATURES OF THERMOCHEMICAL PROCESSING OF PYROCHLORE CONCENTRATES
As a result of researches there was a thermochemical technology developed based on the expansion of pyrochlore concentrates by the agglomeration with limestone which resulted information (depending of the consumption of CaCO3 and the process temperature) of compounds of different ingredients and different solubility. This technology allows to obtain pyrochlore concentrate suitable for ferroniobium production.
Key words: pyrochlore concentrate, thermochemical processing, acid-leach process.
Р. 46-48
УДК 622.24.
Chistyakov V.K. (National mineral resources university «Mountain»)// tch-vk@mail.ru
Vishnevskiy N.A. (National mineral resources university «Mountain»)ligovoranger@mail.ru
TECHNIQUES OF CORING FROM GAS HYDRATE SEDIMENTS
The development of method for improving gas hydrates coring requires summarizing and analyzing theoretical, experimental and practical data about technologies and techniques of coring from gas hydrates sediments.
Key words: gas hydrate, coring, core equipment.
Р. 49.51
УДК 622.257.12
Rozhkov V.P. (Siberian federal university)
Korochevskiy E.A. (Siberian federal university) // korochevskij.eugeny@yandex.ru
Neverov A.L. (Siberian federal university) // neveroff_man@mail.ru

THE ADHESIVE FORCE OF THE EXPANDING GROUTING STONE SHEAR AND PEEL WITH A STEEL SURFACE
The dependence of cement and steel adhesion (shear and tear) from water solid balance (WSB) and cement type is researched. According to the resulting graph it is easy to instal parameters providing technically reasonable and economic plugging operations.
Key words: leaching of cement behind casing, shear stress and separation, hardening grouting stone.
Р. 51-54
MANAGEMENT & ECONOMICS
УДК 504.054:504.74+553.043+504.064
Denisova Yu.V. (FSUE «VIMS») // yulya1348@yandex.ru
Rossman G.I. (FSUE «VIMS»)// genrih.rossman@yandex.ru
THE PROBLEM WITH ASSESSING THE DAMAGE WILDLIFE IN THE JUSTIFICATION OF PROJECT FEASIBILITY EXPLORATION CONDITIONS OF MINERAL RESOURCES
In this article the problem of assessing the damage to the fauna in the justification of project feasibility study. Were analyzed existing approaches to assess damage, which does not allow to solve the problem for the conditions of preparation of project feasibility study of development of deposits. Offered an original technique which allows to evaluate the damage to the fauna on the basis of reference data, without additional field observations.
Key words: damage to wildlife, annual productiveness, norm withdrawal, payment rate, impact area.
Р. 54-59
УДК 553.04+550.812:553.464'494'311(470.54)
Selivanov D.A. (FSUE «VIMS») // msk.danila@gmail.com
Bykhovskiy L.Z. (FSUE «VIMS») // lev@vims-geo.ru
Emelyanov S.A. (FSUE «VIMS») // em100@mail.ru
EVALUATION GROUP COMPLEXITY OF THE GEOLOGICAL STRUCTUREOF THE KACHKANAR GROUP DEPOSITS IN QUANTITATIVE TERMS
To assess the complexity of a Sobstvenno-Kachkanarskoe and Gusevogorskoye deposits identified the main characteristics and comparative analysis of the geological structure. Calculated on the basis of quantitative indicators and geostatistical studies installed accessory Sobstvenno-Kachkanarskoe field to the first group , Gusevogorskoye – to the second. By analyzing the variogram parameters and the optimal network exploration. The analysis of previous exploration work . Based on the data proposed to move inferred resources Sobstvenno-Kachkanarskoe deposit of P1 in the amount of 3.5 billion tons in reserves category C2.
Key words: group complexity of the geological structure, Kachkanarskaya group of deposits, geostatistics, vario, stock assessments, optimization of exploration, exploration works.
Р. 59-64
BOWELS PROTECTION & ECOLOGY
УДК 551.24; 551.432
Grigorieva S.V. (IGE RAN) ) // v_vel@mail.ru
Makeev V.M. (IGE RAN) ) // vmakeev@mail.ru
Korobova I.V. (IGE RAN) // irakorv@mail.ru
Krylova V.S. (IGE RAN) // vmakeev@mail.ru
THE STRUCTURAL-GEODYNAMIC CONDITIONS OF MOSCOW
Consideres the experience of mapping the newest tectonics and geodynamics of Moscow on a large scale 1:25 000. Noted the relevance of the structural- geodynamic studies with the assessment of geodynamic safety of cities and engineering constructions. Include principles of allocation of newest tectonic structures (геодинамически active zones, uplifts,caves) and regularities of their distribution within the city. Presents the structural and geodynamic map of Moscow and geological sections through the valley of the Moskva river.
Key words: the newest and modern tectonics, geodynamic active zones, lineaments and structural-geodynamic "nodes".
Р. 64-70