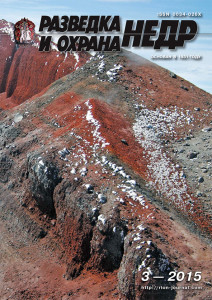 CONTENTS
GEOLOGY & METHODICS OF PROSPECT & EXPLORATION OF DEPOSITS
УДК 553.061.12/.17:553.495(571.53)
Babkin N.Ya. (VIMS) // vims@df.ru
Grebenkin N.A. (VIMS) // vims@df.ru
Dolgushin A.P. (Urangeo) // dolgushin1960@meil.ru
Zaytsev S.U. (Sosnovgeo) // zaytcev-sosnovgeo@meil.ru
Koryavko A.I. (VIMS) // vims@df.ru
Kulichenko V.M. (VIMS) // vims@df.ru
Melnikov S.I. (VIMS) // vims@df.ru
THE EVOLUTIONARY-GEOLOGICAL MODEL OF HIDDEN UNCONFORMITY-TYPE URANIUM ORE DEPOSITS FORMATION IN THE EASTERN SAYAN
By analysis of the geological position and material composition of the different ages uranium mineralization of the Eastern Sayan proposed prototype of the evolutionary-geological model of hidden uranium ore deposits formation on the boundary of the crystalline basement with proto-platform sediments of the early Riphean molasses and preservation of these deposits from subsequent erosion processes.
Key words: The Eastern Sayan, uranium, tectonomagmatic activation, absolute age.
Р. 3-8
УДК 553.061.12+553.062/.067(282.256.3)
Dankovtsev R.F. (VIMS) // vims@df.ru
Shachorin B.N. (VIMS) // shashorin.boris.@yandex.ru
Vydrich D.E. (VIMS) // devrich@mail.ru
DEEP ORE-FORMING ENERGY-MAGMATIC SYSTEM OF THE YENISEI RIDGE AND BAIKIT ANTECLISE
Based on the original VIMS modification of spectral-correlation analysis of the baseline gravimetric data, geological and metallogenic interpretation allocated mantle and nutricology pockets decompression (asthenolense, serpentinite-ultrabasic pools, magmatic reservoirs), which is the energy centers (sources) of endogenous mineralization.
Key words: depth-density analysis, asthenospheric diapir, directions thermofluids transit.
Р. 8-16
УДК 553.048 (477.65)
Perkov E.S. (National Mining University, Dnepropetrovsk, Ukraine) // perkov84@mail.ru
THE STUDY OF THE DENSITY NETWORK BY PROSPECTING AND EXPLORATION WORK ON THE EXOGENOUS CHROME ORE IN MIDDLE BUG AREA
The statistical parameters of exogenous reserves of chrome ore from nickel-bearing weathering crust of the Middle Bug area of Ukrainian shield have been calculated. Density of exploration network is substantiated and the quantitative characteristics of ore reserves is showed for the first time for exogenous deposits of chrome ore in Ukraine that accounts the heterogeneity of morphology of ore deposits and the variability of their contents and thickness.
Key words: exogenous chrome ore, weathering crusts, ore reserve, mineral statistical analysis, exploration network.
Р. 16-19
УДК: 553.61(679)+549.623.9
Egorov A.Yu. (Aerogeologiya) // egorov@aerogeologia.ru
HALLOYSITE: MODERN USE AND POSSIBILITIES OF MINING IN RUSSIA
Halloysite composition, structure and properties are described in the paper. Main areas of use are discussed as well. Two foreign and two Russian deposits are given as examples. It is drawn the conclusion about availability of such type of raw materials developing in Russia.
Key words: halloysite, nanotubes, medicine, polymer coating, deposit.
Р. 19-24
УДК 662.641+662.642(571.56)
Moskalenko T.V. (Mining Institute of the North SB RAS) // labkiy@mail.ru
Mikheev V.A. (Mining Institute of the North SB RAS) // labkiy@mail.ru
BROWN COALS SAKHA REPUBLIC (YAKUTIA) IS A RAW MATERIAL FOR HUMIC SUBSTANCES
The resource base of the coal of the Sakha Republic (Yakutia) is considered. It is considered its progress in the development of the Far East and given the state of resources and the possibility of processing the brown coal to obtain the humic substances. For coals of the Sakha Republic (Yakutia) is also shown that the developed method for producing humic substances from brown coal (the developer of the method Institute of Mining of the North SB RAS) allows to obtain physiologically active humic substances in large quantities of humic acids yield.
Key words: lignite, coal reserves, humic substances.
Р. 24-27
GEOPHYSICS
УДК 550.311:551.24(470.21)
Filatova V.T. (Geological Institute KSC RAS) // filatova@geoksc.apatity.ru
Petrov V.P. (KSC RAS) // petrov@admksc.apatity.ru
STRUCTURAL AND MATERIAL HETEROGENEITY OF THE KEIVY BLOCK FROM GEOPHYSICAL DATA
Tectonic and structural, as well as time-and-space features of the Earth's crust formation of the Keivy ore area accommodating a number of major deposits and ore occurrences have been considered. The structure of geophysical anomalies within the area has been defined; its relation with petrophysical properties of the rocks and staging of deformation and metamorphic processes has been identified. The results showed that the tectonic regimes and the nature of metamorphic processes could significantly affect the material composition, structure and commercial value of the Keivy block mineral deposits.
Key words: Keivy, Neoarchaean, Palaeoproterozoic, Baltic shield, geophysical fields, tectonic regimes, metamorphic processes.
Р. 27-34
УДК 550.834.05
Romanov V.V. (MGRI-RGGRU) // roman_off@mail.ru
INTERPRETATION OF SEISMIC TOMOGRAPHY FOR EXAMPLE STUDY THE GEOLOGICAL STRUCTURE OF THE LANDSLIDE SLOPE
The article discusses the basic techniques of data interpretation of near-surface seismic tomography in the study of landslide-prone slopes. In a specific example, analyzes a continuous distribution of velocities of primary and shear waves, Q-factor and anisotropy of seismic properties. The data obtained are features of the components of the landslide slope and geological boundaries, slip planes, blocks displaced or deformed rocks and groundwater levels.
Key words: near-surface seismic, interpretation, method of the refracted waves, seismic tomography, landslides.
Р. 34-37
TECHNIQUES & TECHNOLOGY
УДК 549:622/533.31
Ivanova M.V. (VIMS) // margo_898989@mail.ru
Astakhova J.M. (VIMS) // astachova_j@mail.ru
Sorokin E.M. (VIMS) // egorgeohim@ya.ru
Bronitskaya E.S. (VIMS) // vims@df.ru
Ozhogina E.G. (VIMS) // vims-ozhogina@mail.ru
FEATURES OF IRON MINERALS DISCLOSING IN THE SEROV ORE FIELD
The features of the disclosure of iron minerals in products enrichment complex ocher iron ore in the Serov field. It is established that to achieve an acceptable disclosure of ore minerals is not possible by methods of deep concentration.
Key words: iron ore, ocher ore, disclosure of minerals, magnetite, hematite, kaolinite.
Р. 37-41
HYDROGEOLOGY & GEOLOGICAL ENGINEERING
УДК 556.3
Atroshchenko F.G. (VNIMI) // fatroschenko@mail.ru
Lobanov V.V. (Yakutniproalmaz) // Lobanovvv@alrosa.ru
Sokolov V.D. (Mining University) // shabanova79@mail.ru
RESERVE WATER SUPPLY SOURCES IN THE FORMATION AREAS OF THICK PERMAFROST ROCKS
Yakutsk diamantiferous province developed by AK ALROSA enterprises is located mainly in the areas of thick permafrost zone, in other words where fresh groundwater are either in solid state or in liquid state within small rivers and lakes. Consequently, the company's enterprises and inhabited localities are supplied with potable water mainly from water storage reservoirs constructed on the rivers. However, at present time the planned amount of fresh water within storage reservoirs is insufficient drastically due to a sharp increase in leakage through subgelisol zones. And this problem is not caused by hydraulic engineers but technical solutions applied and justified by existing natural conditions in which these hydraulic facilities were located.
Key words: diamantiferous province, permafrost rocks, water storage reservoir, underground waters, hydraulic facilities, water supply.
Р. 41-46
MANAGEMENT & ECONOMICS
УДК 553.494'311(470.5):550.34.01+549+622
Selivanov D.A. (VIMS) // msk.danila@gmail.com
Bystrov I.G. (VIMS) // bysivg@gmail.com
THE RESULTS OF GEOLOGICAL AND ECONOMIC EVALUATION OF DEPOSITS KACHKANARSKY GROUPS
As part of a comprehensive geological and economic evaluation of deposits Kachkanarskaya group with current theoretical and practical achievements of analytical and mathematical methods for the study, performed the work on optimization techniques operational exploration and study of the mineralogical and technological properties of ore deposits. Both lines of research are relevant and have practical significance. Application of the results of the economic effect will increase in developing their own Kachkanarsky field.
Key words: comprehensive assessment of deposits Kachkanarskaya group operational intelligence, mineralogical and technological assessment, comparative analysis, improving the efficiency of field development.
Р. 46-52
УДК: 378.6: 553.41 + 553.8
Lisov V.I. (MGRI-RGGRU) // science@mgri-rggru.ru
Bobylov Yu.A. (MGRI-RGGRU) // msk_2008@ mail.ru
ON THE TRAINING AND DEVELOPMENT YUNIORNOY EXTRACTION OF PRECIOUS METALS AND PRECIOUS STONES IN RUSSIA
The analysis of stocks and production of precious metals and jewels is given. Need of development of the Russian jeweler industry for the purpose of saturation of the domestic and world market is considered. Problems of MGRI-RGGRU of preparation of new shots on a joint of applied geology and art processing of materials and introduction of the scientific specialty «Gemmologiya» are given. Need of development of small yuniorny business for gold mining and jewels, measures of the state support and innovative mission of the higher school is shown.
Key words: subsoil use, training, precious metals, precious stones, small unicorny business and legislative framework.
Р. 52-55
BOWELS PROTECTION & ECOLOGY
УДК 550.35
Ovsyannikova T.М. (VIMS) // lab@u238.ru
RADIOACTIVITY OF RARE METAL ORES AND CONVERSION PRODUCTS: REGULATION, ACTIVITY LEVELS AND MEASUREMENT
The article provides a description of radioisotopes activity concentrations in rare metal minerals and ores, conversion products and wastes on the base of deposits in Russia and abroad as well as examines the problem of the regulation of activity levels and the main methods of their determination.
Key words: radioactivity, rare metal ores, natural radioisotopes, gamma- and alpha-spectrometry, radiochemistry.
Р. 56-60
УДК: 550.35:553.043 + 553.493(571.56)
Rossman G.I. (VIMS) // genrih.rossman@yandex.ru
Bakhur A.E. (VIMS) // bae@u238.ru
Petrova N.V. (VIMS) // vims@df.ru
FORECAST EVALUATION OF THE RADIOLOGICAL CONSEQUENCES DEVELOPMENT RARE METAL DEPOSITS TOMTOR
On an example of rare-metal-rare earth deposits in carbonatites Tomtor considered prognostic assessment procedure radiological consequences of the field development non-uranium minerals with a high content in ores natural radionuclides: class field radiation hazard, additive exposure dose to background radiation due to ore prospecting works at the core, the equivalent dose level personnel in open-pit mining, radiation hazard class products and wastes hydrometallurgy. This article is intended for professionals that make environmental and economic sections of the feasibility study of conditions non-uranium deposits of mineral raw materials with high content of natural radionuclides in ores, concentrates, products and waste enrichment and hydrometallurgical processing.
Key words: assessment of radiation consequences, the deposit of rare and rare earth elements.
Р.